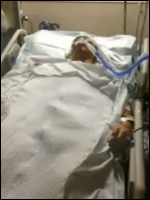 A guy almost beats a cabbie to death... and now he's out on bail like no big deal?
In New York, a man has been arrested in the brutal near-fatal beating of a Queens taxi driver in the early hours of New Year's Day after a dispute over the fare:
Upstate New York man arrested in brutal beating of Queens cabbie
.
28-year-old Andrew McElroy allegedly refused to pay his fare, then punched 53-year-old cab driver Kichun Kim repeatedly in the face until he was unconscious. Kim has reportedly been in a coma ever since.
Meanwhile, McElroy has been charged with assault and not paying the fare -- a misdemeanor -- and issued a violation for harassment. And now he's out on $10,000 bail. Weak. Kim's family is demanding justice.
More here:
Cabbie beaten into coma; suspect out on bail
.