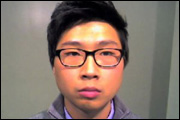 Oh, come on! This week in New Jersey, a medical assistant was charged with sexually assaulting two female patients:
Assistant in Fort Lee doctor's office charged with sexually abusing patients
.
29-year-old Gung Kim is accused of inappropriately touching two female patients during procedures last month at the Edison Kidney Center and at a satellite office in Fort Lee. He is
not
a licensed nurse nor a physician:
One told police that 29-year-old Gung Kim had touched her breasts and vaginal area during a procedure on Dec. 21, and another reported that, during a Dec. 29 visit, Kim "performed a procedure upon her that was not requested nor authorized" and involved the touching of her vaginal area, Molinelli said.

According to authorities, Kim was left alone with the women during both incidents, and the women were unaware that he was not a licensed nurse or physician.
Kim is charged with single counts of sexual assault and criminal sexual conduct. Anyone who has information on Kim, or has been a victim of sexual abuse themselves is asked to contact the Fort Lee Police Department at (201) 592-3510 or the Bergen County Prosecutor's Special Victims Unit at (201) 226-5620.
More here:
Prosecutors: NJ Man Who Worked In Medical Offices Charged With Sex Assault
.