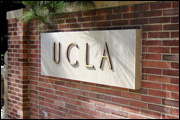 At the University of California-Los Angeles, police are looking for a man who tried to sexually assault a student while she walking on campus:
UCLA police search for man who tried to sexually assault student
.
And yes, the suspect might be an Asian guy.
The attack occurred early Monday morning when the female UCLA student was walking between a parking structure and an engineering building. The attacker approached her from behind:
The attack took place between 1:15 and 1:30 a.m. Monday as the woman was walking east between parking structure No. 9 and engineer No. 4 building, UCLA police said.

The suspect approached the woman from behind and "placed her in a bear hug and told her he intended to sexually assault her," police said in a statement.

The attacker tried to knock the woman to the ground, but she was able to break free. She was not injured, police said.

The attack actually happened within in an hour of an armed robbery that occurred earlier, elsewhere on campus. The two attacks are believed to be unrelated:
UCLA Police Issue Warning After Pair of Late-Night Attacks
.
According to police, the suspect is described as white or a light-skinned Asian, about 30 years old, 160 pounds and about 5 feet 11 inches tall. He has black short hair and was wearing a gray hoodie sweatshirt and blue jeans. Anyone with information is asked to contact police at (310) 794-5824.