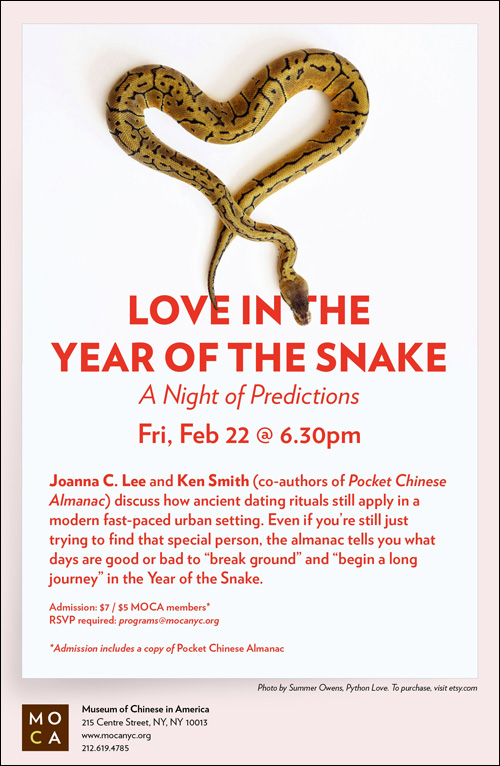 New York, find some
Love in the Year of the Snake
. On Friday, February 22, predict your future with Joanna C. Lee and Ken Smith, co-authors of the
Pocket Chinese Almanac
, discuss how ancient dating rituals will survive in a modern urban setting. It's all happening at
MOCA-NYC
:
Love in the Year of the Snake
Fri, Feb 22 from 6:30pm - 8pm

Think it's a coincidence that Chinese New Year overlaps with Valentine's Day?

Joanna C. Lee and Ken Smith (co-authors of the Pocket Chinese Almanac) discuss how ancient dating rituals still survive in a modern fast-paced urban setting, from checking your partner's Zodiac compatibility to picking the right day for a wedding or a first meeting with the parents. Even if you're still just trying to find that special person, the almanac tells you what days are good or bad to "break ground" and "begin a long journey" in the Year of the Snake.

*Pocket Almanac* will be available to the public as a free giveaway from the event.

Admission is $5 for museum members, and $7 for non-members. For more information,
click here
.