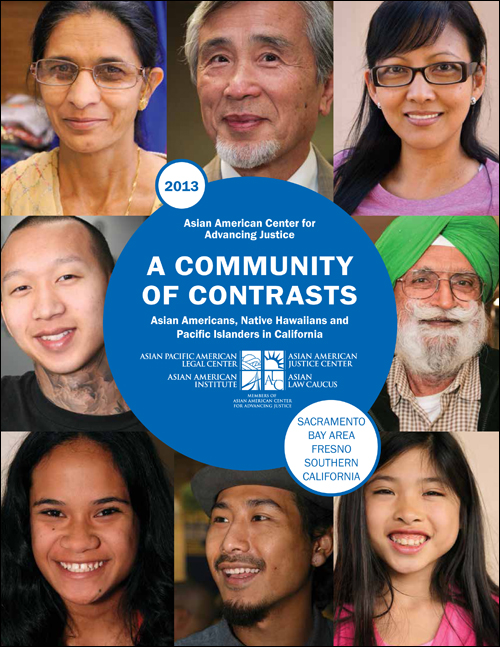 Time to drop some demographic data, my friends. The Asian Pacific American Legal Center and the Asian Law Caucus just released a major new report on California's fastest growing racial groups:
A Community of Contrasts: Asian Americans, Native Hawaiians and Pacific Islanders in California, 2013
.
Using the latest data from numerous federal, state, and local agencies, the report outlines pressing challenges faced by Asian Americans, Native Hawaiians and Pacific Islanders, including the need for healthcare and humane immigration reform, and the negative impact of the economic crisis.
Some of the report's key findings, according to APALC's
press release
:
The need for humane immigration reform is among the most pressing. According to the U.S. Census Bureau, over 3.1 million Asian Americans and 47,000 NHPI in California are foreign-born. Data from the Department of Homeland Security show that one million immigrants from Asia and the Pacific obtained legal permanent resident (LPR) status in California between 2000 and 2010 alone, making up 40% of all LPRs statewide. There are roughly 416,000 undocumented Asian Americans living in California, 15% of the state's undocumented residents.

The report also notes the impact of the economic crisis on Asian American and NHPI communities. According to data from the Bureau of Labor Statistics, the number of unemployed Asian Americans in California grew 196% between 2006 and 2010, the most of any racial group statewide. Data from the U.S. Census Bureau show the number of NHPI and Asian Americans living below the poverty line statewide increased 138% and 50%, respectively, over a similar period. Today nearly 540,000 Asian Americans and nearly 27,000 NHPI in California live in poverty.

Healthcare is another critical issue. Approximately 14% of Asian Americans and 15% of NHPI in California do not have health insurance, rates higher than Whites (10%). Among ethnic groups, 27% of Korean Americans and 25% of Samoan Americans statewide lack coverage. As California works to implement the Affordable Care Act (ACA), it should ensure accessibility to the limited English proficient; just over one in three Asian Americans and one in 10 NHPI statewide experience some challenge communicating in English that impacts his or her ability to access basic services, including healthcare.

Read the full press release
here
. The report is available to the public, but users must
register
on the APALC website to download a copy. Register, download and learn something.