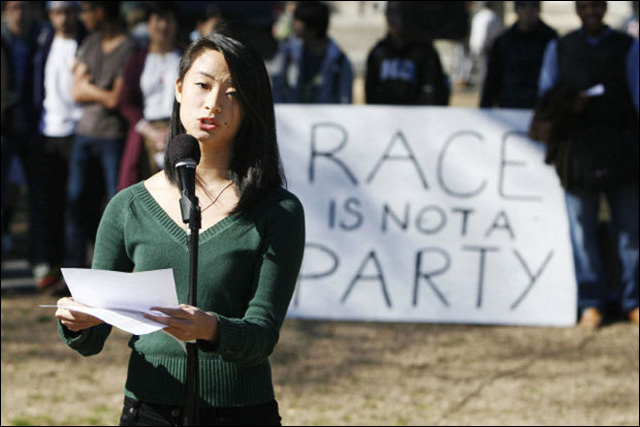 An update on what's going down at Duke University, where a fraternity is getting its ass kicked for throwing a racist Asian-themed party over the weekend. The "Racist Rager," as critics are affectionately calling it.
According to Duke's student newspaper,
The Chronicle
, operations of the Eta Prime chapter of Kappa Sigma have been suspended. The fraternity will undergo an investigation to determine the status of its charter, but all activities and events are now prohibited. That's a start.
Meanwhile, several hundred Duke students gathered Wednesday to protest the Kappa Sigma's party, and the culture of ignorance and discrimination at Duke that allowed it to happen. This wasn't about just one incident:
"(We) continue to advise them and turn this as much as we can into a learning opportunity," Moneta said. "This is a persistent battle against ignorance that students arrive with, that students develop and that is reinforced in various cultural conditions on and off the campus. This is nothing unique to Duke."

At Wednesday's protest on the lawn in front of Duke Chapel, students stood around a sign several feet high that bore the message "Race is not a party."

"A common counter-argument we get is, 'OK, if it had been an 'America' party, which people do hold, then it would be OK,'" said Xiaohan Cai, a junior public policy major who participated in the protest. "But that's not a marginalized group, so the context is very important."

According to Duke's website, Asian American students comprise approximately 22 percent of the student population. Props to the students who stood up and spoke out about this ugly incident. More here:
Duke University fraternity under fire for Asian-themed party
.
Like I've said, this is not something new. It's happened before, and unfortunately, will happen again -- maybe not at Duke, but on another campus. Don't be afraid to start shit every time. Oh, and special props to whoever came up with the term "racist rager." This happens so often, it needed a name.