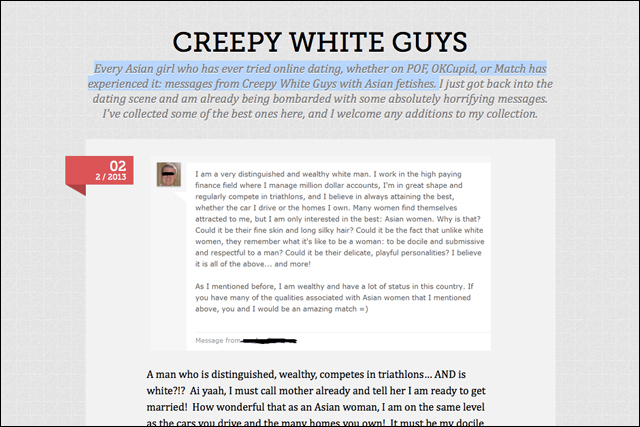 Creepy White Guys
: "Every Asian girl who has ever tried online dating, whether on POF, OKCupid, or Match has experienced it: messages from Creepy White Guys with Asian fetishes."
Ethnic Bias on National Public Radio
: Watch this video of Hmong American writer Kao Kalia Yang share with students at Stanford's Listen to the Silence conference, talking about her painful experience dealing with NPR's
Radiolab
and the "Yellow Rain" debacle.
Walking Dead Porn Parody Relies on Yellowface
: So... for the porn parody version of
The Walking Dead
, they decided to go with yellowface for the role Glenn. There are so many things wrong with that statement.
Vietnamese LGBT groups fear exclusion from Tet parade
: In Orange County coalition of Vietnamese gay and lesbian groups is concerned it won't be able to participate in Little Saigon's Lunar New Year Tet parade.
Many Major Theaters Believe in Color Blind Casting (Except When It Comes to People of Color)
: In theory, theaters believe in color blind casting. But what about in practice?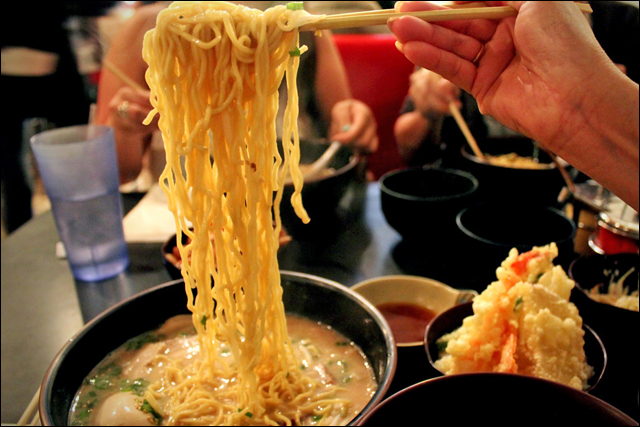 LA now has oodles of noodles
: Are you a member of the cult of ramen? From Tsujita to Shin-Sen-Gumi, venerable food writer Jonathan Gold names his top ten ramen shops in the Los Angeles area.
Thefts Make Korean Pastor Tackle Prejudice At Home
: More on Pastor Peter Chin, who's been serving as the interim pastor at Peace Fellowship Church, a predominately African American nondenominational church in D.C. Here, he discusses with NPR the struggles he's experienced with theft and how to tackle questions of prejudice asked by his daughter.
A Doctor's Kindness Gives Homeless Inventor A Second Chance
: Mike Williams was homeless and broke in Sacramento when he met Dr. Jong Chen. Now the two men are working together to develop a portable housing pod for the homeless.
George Takei, 'Star Trek' Star, On Coming Out, LGBT Rights And 'Don't Say Gay' Bill
: Another cool interview with the forever awesome George Takei.
Williams still looking for comeback
: A profile on 6-foot-7 Michigan State center Madison Williams, a former Michigan High School Player of the Year who's faced her share of setbacks.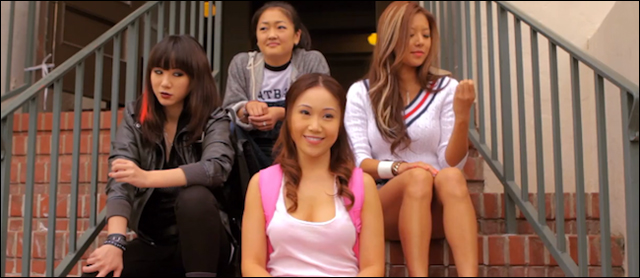 Asian American Web Series
:
Televisual
recently posted a handy directory of scripted web series "starring, marketed to or produced by people who identify as Asian, Asian American and/or Pacific Islander."
Other minority groups over looked in undocumented immigrants debate
: Most conversations on immigration reform center around Mexicans, which make up more than half of all illegal immigrants. But MSNBC's Richard Lui reports on other ethnic groups often overlooked in the debate.
For Asian-Americans, Immigration Backlogs Are A Major Hurdle
: Of the five countries with the longest backlogs for visas, four are in Asia, and there are an estimated 1.3 million unauthorized Asian immigrants in the United States.
Sorry but this film had to be done
: Canadian filmmaker Mitch Miyagawa's documentary
A Sorry State
, explores reconciliation, redress and resolution through historical wrongdoings and government apologies.