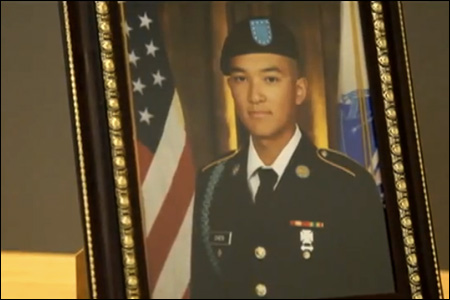 Some unfinished business in the fight to seek justice for Private Danny Chen, who died after suffering weeks of hazing and abuse from his superiors and fellow soldiers in Afghanistan.
While all eight superiors faced court-martial and were found guilty, only four of them have been discharged from the Army. A coalition of Danny's supporters have begun circulating an
online petition
to the Commander in Fort Wainwright, Alaska to request that the four remaining soldiers be administratively discharged:
Danny Chen was a 19-year-old Private from a Fort Wainwright unit who died after being subjected to 6 weeks of relentless hazing and mistreatment at the hands of his superiors in Afghanistan. Eight soldiers were found guilty in connection with his death. Four of the superiors have been discharged; the other four must be administratively discharged. Staff Sergeant Blaine Dugas, the second in command, was found guilty of using alcohol in a combat zone and dereliction of duty. Staff Sgt. Andrew J. VanBockel, Chen's squad leader and the "ring leader" of the mistreatment, was found guilty of hazing, dereliction of duty, and maltreatment of a subordinate. Sgt. Jeffrey Hurst was convicted of dereliction of duty. And Specialist Thomas Porter Curtis IV was convicted of hazing, two specifications of maltreatment, and two specifications of assault.
Sign the Change.org petition
here
and spread the word.