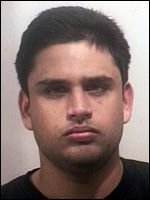 Holy crap. On Monday in Orlando, police identified the body of James Oliver Seevakumaran, a former business school student who killed himself before he was able to carry out a planned armed attack on the campus of the University of Central Florida:
James Seevakumaran, evicted UCF student, ID'd as man found shot dead on campus; planned wider attack, police say
.
Seevakumaran's body was found in with a .45 caliber handgun, a .22 caliber tactical weapon, hundreds of rounds of ammunition, and a backpack filled with makeshift explosive devices, as well as notes and writings that indicated a carefully planned attack timeline.
Police believe Seevakumaran pulled a fire alarm in an apparent attempt to force other students out in to the open so he could slaughter them. But instead, he killed himself when police arrived to quickly for him to carry out his plans.
Police said it appeared his timeline had been thrown off when authorities responded to a fire alarm call quicker than he expected.

Officials said Seevakumaran's death was caused by an apparent self-inflicted gunshot wound. Police said they speculate Seevakumaran pulled the fire alarm himself to get students to evacuate in one area and his roommate's 911 call made the response to the fire alarm faster, prompting him to shoot himself.

Beary said Seevakumaran's roommate had called 911 to report Seevakumaran had pointed a gun at him when he walked out of his room after the fire alarm went off. Another roommate was out of town and the third roommate had left the apartment immediately when the alarm was set off, prior to Seevakumaran producing his gun, the station reports.

"University police responded immediately when we received a fire alarm call and a subsequent 911 call," Beary said.

Seevakumaran was previously enrolled in the College of Business Administration and was in the process of being removed from UCF Housing. There's not a lot more information about him, or what drove him to devise his violent plan, but at this point, all I can say is thank God he wasn't able to see it through, and no one else was hurt. More here:
Massacre Thwarted at University of Central Florida
.