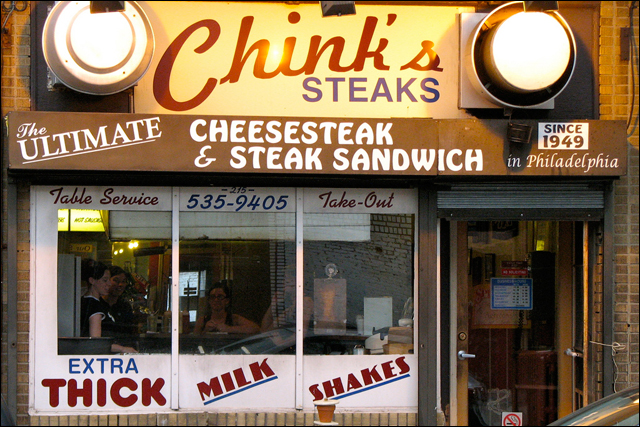 I've written a lot about Chink's Steaks here over the years. The landmark Philadelphia eatery, which has been the target of a decades of controversy because of its name, has announced that it will be operating under a new name and logo starting next month:
Landmark Philadelphia Cheesesteak Shop Changing Its Name
.
Chink's will now be known as Joe's Steaks & Soda Shop. The local sandwich institution was first named for its original owner, Sam "Chink" Sherman, who was given the neighborhood childhood nickname by elementary school classmates, circa 1930. because of the shape of his eyes. Talk about some seriously racist kids.
The current owner, Joe Groh, who took over the business in 1997, says he didn't originally associate the name with a racial slur. But Groh says times have changed:
"Chink's was a local institution named after the original owner's childhood nickname," Groh said in a news release. "We did not associate it with the racial slur... Chink was a neighborhood celebrity and at the time I wanted to accommodate our customers by keeping everything the same. Even the name."

Groh said he is "doing his best to accommodate his ever-growing customer base."

"It is very important to me, my family and the entire staff that we no longer inadvertently alienate anyone in the Philly community. We are very excited to move forward under the new name, Joe's Steaks + Soda Shop," he said in the release.

I remember writing about Chink's since the beginnings of this blog. Can it be -- after all these years, the owner of Chink's Steaks finally gets the picture? I guess Joe Groh realized he was losing sales and business opportunities operating under a
racist
name. Good riddance. More here:
Chink's Steaks changing its name
.
UPDATE: More local coverage:
Asian Americans Glad "Chinks" Name is Changing
.