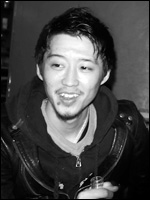 On February 21, a 24-year-old Japanese student was killed by an NYPD patrol car in Queens as he was crossing the street. Last week, Ryo Oyamada's family traveled from Japan to New York City to identify the body, and they want answers.
Father Of Japanese Student Killed By Cop Car Demands "The Truth."
The police report claims that the patrol car had its emergency lights and sirens activated at the time of impact. But Oyamada's father says that the NYPD has not been forthcoming with satisfactory answers, and at least one witness says he didn't see or hear any flashing lights or sirens that night.
Witness Claims NYPD Car That Killed Japanese Student Did Not Have Lights Or Sirens On
.
Chuck Johnson, who works at Queensbridge sports lounge PDG Variety Store, tells us he saw Oyamada leaving a neighboring deli at 40th Street and 10th Ave, right before he was hit by the patrol car. "He came out of the store and by the time I turned back around... he was on the ground dead in 35, 40 seconds," Johnson told us. And though the police report states that the patrol car in question had its "emergency lights activated" at the time of the accident, Johnson insists that wasn't the case. "They never had sirens on," Johnson said. "They didn't put sirens on until two more patrol cars put on their sirens. There were no overhead lights on, none."

Johnson thinks the car was traveling upwards of 70 miles per hour, and he tells us it's common to see cop cruisers speeding in his neighborhood. "We've been talking about these officers, they're the same officers that race around the neighborhood in their police car," Johnson told us. "The speed this guy was going, you can get to the same spot at 30 miles an hour. Why do you have to be going 70 miles an hour in a residential neighborhood?"

What happened to Ryo Oyamada? Something is up, and his family deserves the truth. They have reportedly filed a notice of claim against the NYPD and the city.
More here:
NYPD cruiser victim's kin sue
.