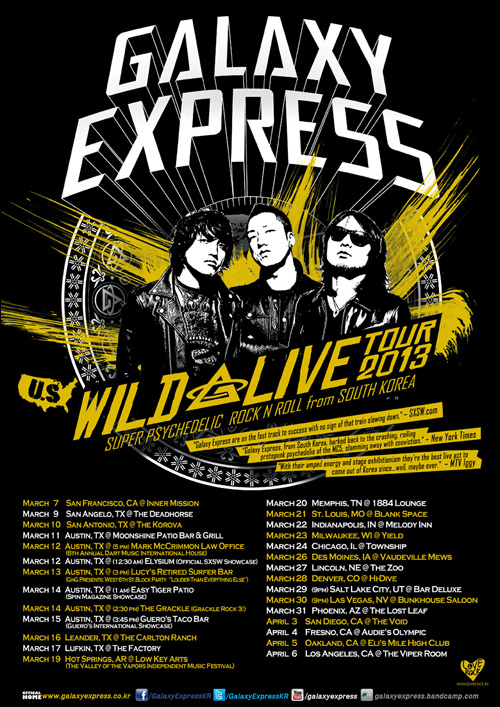 Hey music fans, you want to get in on this.
Galaxy Express
, one of Korea's top indie acts, is bringing their special brand of face-melting super-psychadelic rock to our shores. They're on tour this month, playing 28 shows across the United States, including stops at SXSW and Arkansas' Valley of the Vapors Music Festival. I've seen these guys play live before, and they are all kinds of awesome. Here are the tour dates:
March 7 San Francisco, CA @ Inner Mission
March 9 San Angelo, TX @ The Deadhorse
March 10 San Antonio, TX @ The Korova
March 11 Austin, TX @ Moonshine Patio Bar & Grill
March 12 Austin, TX @ (5 pm) Mark McCrimmon Law Office (6th Annual Dart Music International House)
March 12 Austin, TX @ (12:30 am) Elysium (Official SXSW Showcase)
March 13 Austin, TX @ (3 pm) Lucy's Retired Surfer Bar (GnG Presents: West 6th St. Block Party "Louder Than Everything Else")
March 13 Austin, TX @ TBA
March 14 Austin, TX @ (2:30 pm) The Grackle (Grackle Rock 3!)
March 15 Austin, TX @ (3:45 pm) Guero's Taco Bar (Guero's International Showcase)
March 16 Leander, TX @ The Carlton Ranch
March 17 Lufkin, TX @ The Factory
March 19 Hot Springs, AR @ Low Key Arts (The Valley of the Vapors Independent Music Festival)
March 20 Memphis, TN @ 1884 Lounge
March 21 St. Louis, MO @ Blank Space
March 22 Indianapolis, IN @ Melody Inn
March 23 Milwaukee, WI @ Yield
March 24 Chicago, Il @ Township
March 26 Des Moines, IA @ Vaudeville Mews
March 27 Lincoln, NE @ The Zoo
March 28 Denver, CO @ Hi-Dive
March 29 Salt Lake City, UT @ Bar Deluxe
March 30 Las Vegas, NV @ Bunkhouse Saloon
March 31 Phoenix, AZ @ The Lost Leaf
April 3 San Diego, CA @ The Void
April 4 Fresno, CA @ Audie's Olympic
April 5 Oakland, CA @ Eli's Mile High Club
April 6 Los Angeles, CA @ The Viper Room

The band will be touring in support of their latest self-titled album. For further information about Galaxy Express, their music, and the tour, visit the band's
official website
and follow updates on their
Facebook page
.