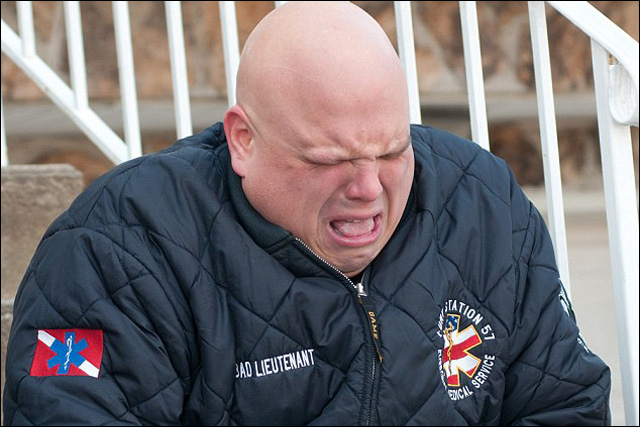 That is one pitiful sight. Behold, a guy who regularly spews all kinds of vile racist and sexist comments on Twitter, but when confronted about it in real life, breaks down and cries like a blubbering baby:
FDNY EMS Lt. spews racist, anti-Semitic tweets, but cried when confronted
.
34-year-old Timothy Dluhos, a FDNY EMS lieutenant, uses an image of Hitler for his profile photo, calls a gold Nazi-era swastika pin his "most prized artifact" and doesn't seem to have a problem making racist remarks about "chinks," "coloreds" and Jews. Sounds like a really charming guy.
But when reporters from the
New York Post
showed up outside his home in Staten Island, inquiring about his behavior on social media, Dluhos apparently broke down crying right there on the street:
EMS Lt. Timothy Dluhos, 34, uses an image of Hitler for his profile photo and "Bad Lieutenant" as his online name as he spews a barrage of racist, sexist, anti-Semitic and anti-Asian comments.

The FDNY boss proudly posed with Mayor Bloomberg during a 2009 ceremony but hatefully calls Hizzoner "King Jew" and "King Heeb" on Twitter.

Dluhos, who works at EMS Station 57 in Bedford-Stuyvesant, Brooklyn, dropped to the ground sobbing Friday when The Post confronted him outside his Staten Island home.

"There has got to be a lot worse out there than me," he insisted.

"My life is ruined. Oh, my God," Dluhos wailed. "I'm so sorry."

Some of Dluhos' greatest hits on Twitter:
* "I'm going to give up racial insults for Lent," he tweeted Feb. 12. "Jesus that didn't [last] too long. F--ken chinks can't drive."

* While giving what he called a "hood tour" of the Bedford-Stuyvesant area he serves, he posted photos of a housing project, fried-chicken joints and a strip club. "Real nasty place," he tweeted Feb 23. "I've been there."

* "Hahaha! I work with the coloreds," he wrote in a Feb. 8 exchange. "For 12 years so that s--t just run off on me."

* "Too bad he didn't have rabies or AIDS and too bad he didn't bite King Heeb's face off," he tweeted on Groundhog Day, Feb. 2, recalling when the groundhog Staten Island Chuck nipped Bloomberg at an event at the Staten Island Zoo.

* "That's how King Jew sees it. Ban all guns & shootings will go down in NYC. But it's the criminals w/the guns," he ranted Jan. 30.

* A gold Nazi-era pin with a German U-boat and a swastika is "my most prized artifact," he boasted on Jan. 30.

* "He was a good boy who never done NUFFIN wrong. Unf--kenreal. He was a perp & died like a perp. Oh well," he tweeted March 14, mocking the grieving mother of Kimani Gray, the 16-year-old boy who was killed by cops in Brooklyn on March 9.

* He repeatedly Photoshopped an image of an unnamed black teen — putting a Hitler mustache on one photo and a surgical mask on another with the caption, "I's be a doxter."

* "My son thinks he's one of 'those people,' " Dluhos wrote in a caption for a Jan. 29 snapshot of his toddler son wearing pants that sagged below his underwear.

* "But at least I know my taxes go to the 'undocumented' citizens and lazy asses who do drugs all day," Dluhos wrote March 15.

Hey, you're entitled to use social media in whatever manner you want. Just know that your activity is public, and there are consequences for your actions. Go on and cry, you big baby.
More here:
FDNY lieutenant breaks down on the street when he is confronted about 'racist tweets' that called mayor 'King Heeb' and used ethnic slurs
.