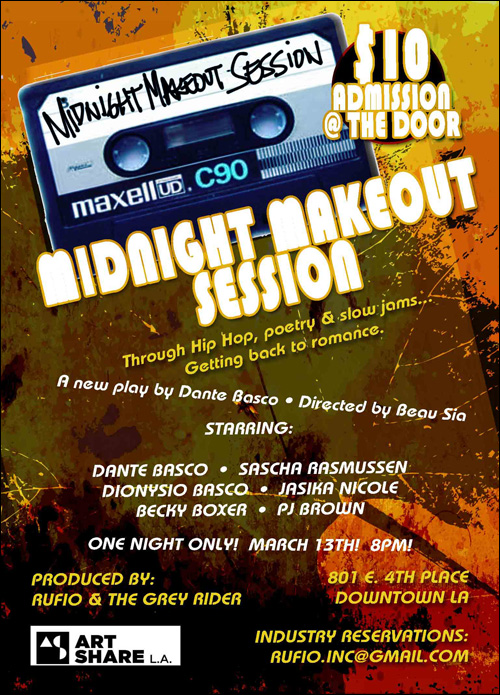 Short notice, but if you're in Los Angeles, you might want to check this out... Our friend Beau Sia directs
Midnight Makeout Session
, a new play by Dante Basco. They've been hard at work at this thing and are ready to share it with a few folks. It's Wednesday, March 13 at Art Share LA. For one night only! Here's some more information, in Dante's own words:
Midnight Makeout Session

Purchase Tickets now!

Limited Seating Available!

So here's the new play I wrote… Currently we're workshopping it in Los Angeles and will be having a performance on March 13th. As this is my first play, I'm a bit nervous about it all, but I've been lucky enough to be surrounded by amazing artists to really help bring this play to life! First and foremost, this is directed by Beau Sia, one of the most renown spoken word artist in America, and as all the monologues in the play are poems, he was the perfect choice. The cast include Jasika Nicole, Dionysio Basco, PJ Brown, Becky Boxer and also Sascha Rasmussen and myself who also are producing.

Now what is it about you wonder? Well, it's an LA story about a group of friends in their 30's, disenchanted with their promiscuous 20's... through poetry, hip hop and slow dancing, they try to get back to the romance of their first kiss.

If you're in Los Angeles, I would love for you to join us in seeing my first play come to life.

Seating is limited, so get your tickets in advance. For more information, head over to
Dante's blog
.