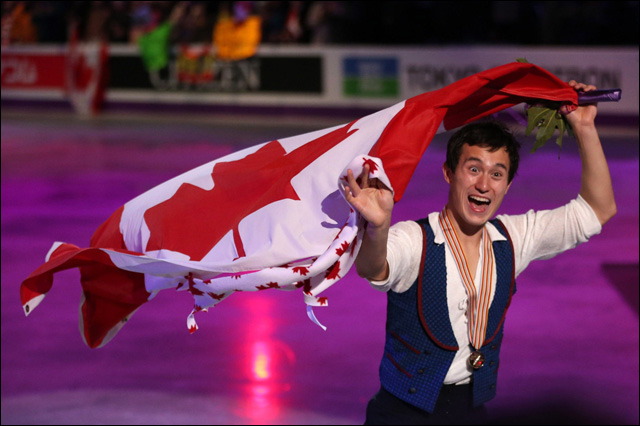 On Friday night in Ontario, 22-year-old Canadian skater Patrick Chan won his third consecutive world figure skating title, becoming the first men's singles skater in 13 years to win three straight championships:
World figure skating championships: Canada's Patrick Chan wins third straight title
.
Victory number three wasn't flawless. Heck, it was pretty darn dreadful -- he fell twice during his free skate to
La Boheme
-- but he came into the evening with a huge seven-point lead, thanks to a strong world-record short program score of 98.37:
Thanks to a world-record short program, Chan took a huge seven-point lead into a free skate that was indicative of his topsy-turvy season — an error-filled four-and-half minutes to "La Boheme" that included a couple of falls and downgraded jumps.

"I definitely was disappointed in myself because I really wanted to go out there and have a short program moment," he said. "The moment wasn't as good as it could have been, but it was nonetheless very special."

Dressed in a V-neck white shirt under a blue vest, Chan opened with two huge quads and looked headed for certain victory. But he had uncharacteristic fall on a triple Lutz, a jump he could land in his sleep, then went splat on his triple Axel — the jump that's always been his nemesis — en route to 267.78 points.

More here:
Patrick Chan captures 3rd straight world figure skating title
Meanwhile, 19-year-old Denis Ten of Kazakhstan took the silver medal, earning his first-ever finish on the podium and giving his country its first world championship medal:
New world order in men's skating
.
And of course, Kim Yu-na of South Korea, returning spectacularly after a year and a half out of competition, took the women's gold. Like you never missed her. Here's video of her exquisite performance to music from
Les Miserables
:
2013 ISU Figure Skating World Championship: Women's Free Skate: Kim Yuna wins
.