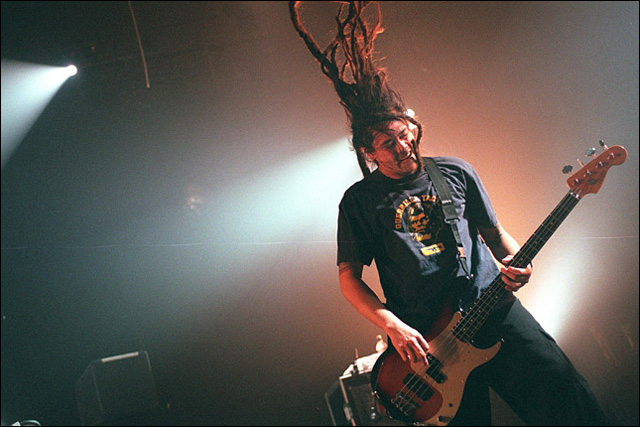 Some sad music news... Bass guitarist Chi Cheng, co-founder of the Grammy-winning Sacramento-based alternative/metal band The Deftones, died over the weekend, five years after a car crash left him in a coma. He was 42:
Deftones bassist Chi Cheng dies after fighting 'the good fight'
.
Cheng's mother announced his passing in a statement on the website
oneloveforchi.com
. On early Saturday morning, he was taken to the emergency room where his heart stopped at 3:00am. Cheng had been in a semi-conscious state after suffering major injuries in a car accident in 2008:
Cheng suffered major injuries and was left in a coma following a November 2008 car crash in Santa Clara, Calif. The bassist was driving with his sister when they collided with another car, sending his vehicle rolling. He was not wearing a seatbelt and was ejected from the vehicle. His sister was wearing hers, and only sustained minor injuries.

"Chi is one of the strongest people I know, and I'm praying that his strength will get him through this," Moreno said at the time on the Deftones' blog.

In the years since, Cheng had been making slow but steady progress in his recovery. In 2009 it was reported that he was no longer in a coma but in a semi-conscious state. A year later, doctors said he was "showing signs of improved neuro function." Recently he regained limited ability to move his legs on command.

More here:
Deftones Bassist Chi Cheng Dead at 42
.
Cheng was also a spoken word artist, activist and philanthropist. Here's a
video interview
he did in 2007, where he talks about his music, political leanings and community interests. Rest in peace, Chi Cheng.