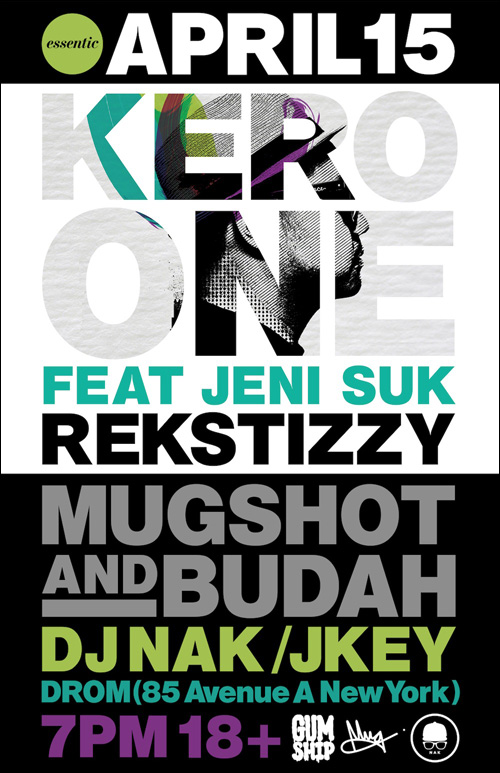 If you're in New York City, make some plans this Monday night for some good music.
Essentic presents
one of my favorite emcee/producers, California's own Kero One, alongside YouTube sensation Jenni Suk, and rappers Rekstizzy, Mugshot of Deep Foundation, MC Budha and more. It's happening Monday, April 15 at Drom. Here are some more details about the show:
Essentic Presents: Kero One Live in NYC

On Monday, April 15th, jazz-hop musicians Kero One, alongside YouTube sensation Jenni Suk, are headlining a show in New York City's Drom.

Known for spearheading the jazz-hop movement, Kero One, a rapper/producer/DJ raised in California, has independently released four full-length albums, dozens of 12" vinyl, mix CDs, and cassette tapes. A multi-instrumentalist, Kero has garnered praise from underground hip-hop staples like Aloe Blacc & Del the Funky Homosapien to legends like Stevie Wonder and pop icons like Will.i.am, Jamie Cullum (BBC UK), Epik High (Korea), and Dynamic Duo (Korea) just to name a few.

Accompanying the veteran is YouTube sensation Jeni Suk, whose sound draws a wide array of influences from the likes of Kimbra, Little Dragon, Lauryn Hill, and Alicia Keys. Her recent cover remake of "Trap Love" (which combines Rihanna's "Pour it Up," "Love Song," and Lil Wayne's "Bitches Love Me") garnering nearly half a million views from her YouTube following.

To top it off, Queens-raised rappers Rekstizzy, Mugshot of Deep Foundation crew, and MC Budha will pepper any additional need for humor and neck-snapping boom bap.

When: Monday, April 15th, 2013 / Doors Open at 7 p.m.

Where: DROM NYC 85 Ave A, New York, New York 10009

For further information, check out the
Facebook event
.