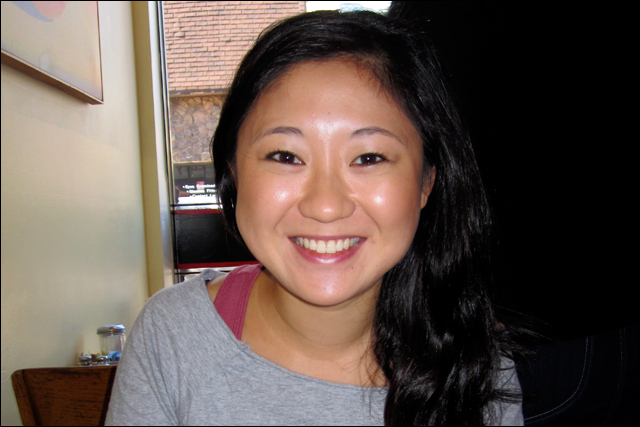 Hey, everybody. It's time again to meet the
Angry Reader of the Week
, spotlighting you, the very special readers of this website. Over the years, I've been able to connect with a lot of cool folks, and this is a way of showing some appreciation and attention to the people who help make this blog what it is. This week's Angry Reader is Yaejoon Kwon.
Who are you?
Yaejoon! Will also respond to Yaej, Joon, and if I'm in a good mood, Yae.
What are you?
Generally, I am happy, stressed, and very fortunate.
I identify as Korean American, Asian American, and a Woman of Color.
I am a proud Minnesotan, daughter of a professor of civil engineering and the director of the
Korean Service Center's
long-term care programs. I am the oldest child (birth order matters!) and the proud sister of a
musician/educator/activist
. I am proud of my friends -- friends who care deeply and are pursuing their dreams. And I am the proud spouse of a
former angry reader of the week
-- my best friend and partner in life's adventures.
Where are you?
I'm writing at an Asian American owned coffee shop called Subterranean Coffee Boutique in San Diego, CA. Check it out if you're in the area!
Where are you from?
Born in Incheon, South Korea and moved to the land of
10,000 lakes
a gajillion mosquitoes (Minnesota) when I was 3 years old. Spent most of my adult life in Illinois (Evanston, Chicago, Urbana-Champaign, Savoy) and recently moved to San Diego, CA. Didn't realize how much Midwest pride I had until I moved to California...
What do you do?
I do what I love: learn, teach, eat & bike.
I am a PhD candidate in sociology at the University of Illinois at Urbana-Champaign. I study how raced and gendered knowledge affected occupational policies and practices during the U.S. military occupation of southern Korea from 1945 to 1948. I love digging in archives and am learning to embrace writing. I love teaching sociology and Asian American studies, working with undergraduates, and going to academic conferences (I know, super nerdy).
When I'm not nerding out, I'm usually eating (crazy sweet tooth) or drinking (love my espresso and learning to appreciate San Diego craft beer). I am also constantly sweet-talking & bribing my metabolism, begging it to come back...
I also try to live a bike-friendly lifestyle. I rely on my bikes as my main mode of transportation and it has changed the pace and structure of my life (for the better!). I would love protected bike lanes and am a fan of colorful helmets. Oh, and I really miss the flatness of Illinois... the hills in San Diego are no joke.
What are you all about?
Sunlight. Breezes. Silence.
Walkable & bikeable neighborhoods, local coffee shops, people who pick up after their dogs.
Ethnic studies, educators, the art of giving generous yet critical critique, people who nurture critical thinking.
What makes you angry?
Cyclists who bike without lights at night. Getting yelled at by drivers for biking on the road. Rude people. Dive bars. Overly salty food. Boys' toys. Girls' toys. Violence. Essentialism. When people take without giving back. Racist logic cloaked in the rhetoric of individuality and equality. Experts with no expertise. When people know they have certain privileges but act like they don't. When I get mail & checks made out to Yaejoon Pham.
I am as angry as I am happy. Balance is a good thing, right?