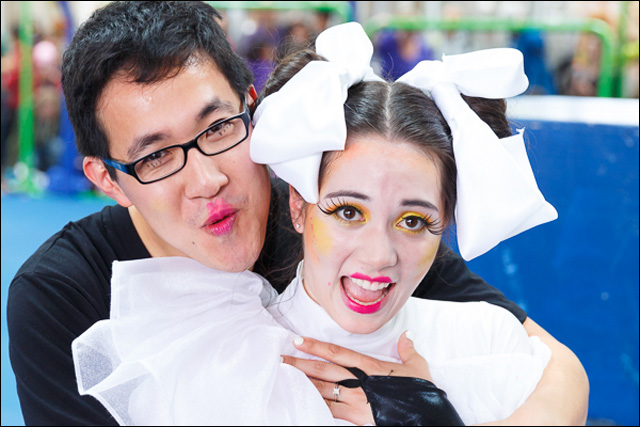 This is a really cute proposal story out of Vancouver involving a girl, a guy, a circus performance, and a giant balloon:
Circus Marriage Proposal: Performer Uses Giant Balloon To 'Pop' The Question
.
Nigel Wakita, director of recreational education and a performer at the Vancouver Circus School, wanted to propose to his girlfriend, Fiona Walsh, who also works at the school as the performer and office administrator. So he concocted a scheme around a crowd-pleasing balloon act.
During a circus show with over 250 spectators -- including family and friends -- he "popped" the question:
Using a leaf-blower, Wakita filled a giant balloon with air and fit himself inside it. After entertaining the crowd for a few minutes, he bounced over to the wings for the "quick change" portion of the act. Wakita said normally, his castmembers feed him a silly outfit through the opening in the balloon, and he changes inside the ballon and reveals his new outfit after escaping from the balloon. This time, however, they gave him a nice pair of black pants and a shirt -- and the ring.

After Wakita changed into his new outfit, Walsh "released" him from the balloon by popping it with a giant pair of scissors. Wakita immediately got down on one knee, showed the ring to a shocked Walsh and asked her to marry him.

"She's normally really good about not breaking character, but when the balloon popped and we went off-script, she had what I would call the 'derp' face on. Like 'What...?'" Wakita said. "All she did was nod."

She said yes. Somebody's gotta have a video of the proposal. But here are some fun
photos
showing how it all went down, pop and all: