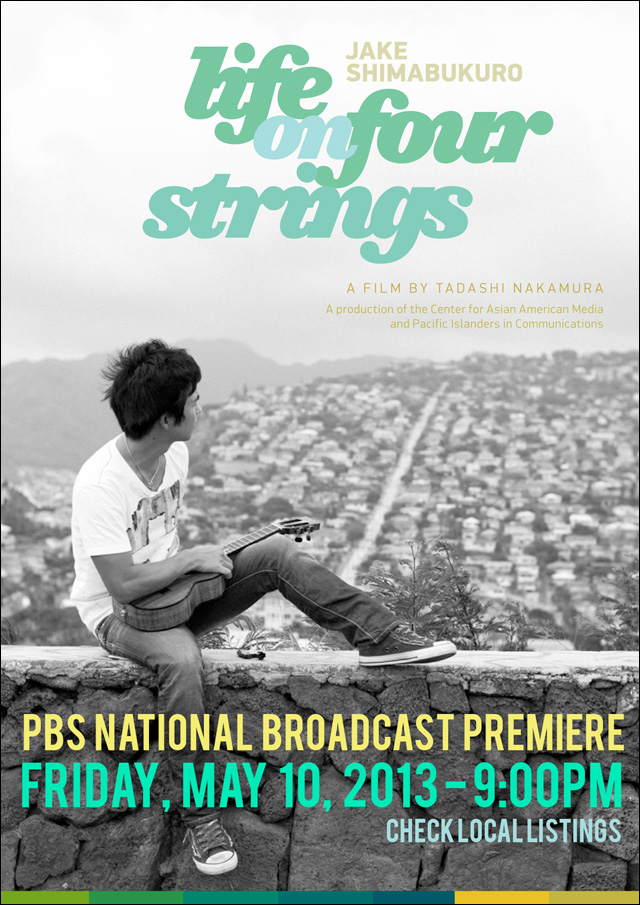 Make plans, set your DVRs and take note that the the PBS national broadcast premiere of
Life on Four Strings
, a documentary portrait of ukulele virtuoso Jake Shimabukuro, is going down this
Friday, May 10 at 9:00pm
(check your local listings). Three years in the making, award-winning filmmaker Tad Nakamura tells the heartfelt story of a musical sensation whose instrument of choice happens to be the ukulele. And he totally shreds. Take a look at the
trailer
:
JAKE SHIMABUKURO: LIFE ON FOUR STRINGS
A production of the Center for Asian American Media
and Pacific Islanders in Communications
Directed by Tadashi Nakamura
Watch trailer: www.lifeonfourstrings.com

PBS Broadcast Premiere
Friday, May 10, 2013 at 9:00p (check local listings)

Please set your DVRs! On your cable box search for "Jake Shimabukuro". Record in HD if possible.

Find your local PBS station at:
http://www.pbs.org/about/faq/station-finder/

It's a pretty darn marvelous film, revealing the cultural and personal influences that have shaped Jake Shimabukuro as a man and musician. And dude, if you've never seen Jake play, this is going to blow your mind and completely change your understanding of what that little four-string instrument can do.
For more information on
Life on Four Strings
, check out the film's
website
and follow updates on
Facebook
. And tune in this Friday on PBS. (You can find your local PBS station by looking it up
here
.)