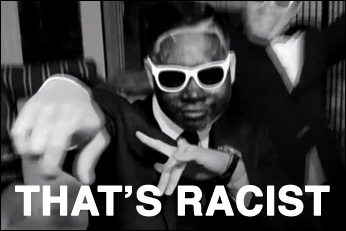 A follow to the blackface video controversy at UC Irvine... Lambda Theta Delta, the Asian American fraternity that sparked outrage over a
video
of a member performing in blackface, has suspended itself:
Lambda Theta Delta, Asian-American Fraternity at UC Irvine, Suspends Itself Over Blackface Video
.
In a statement posted on Lambda Theta Delta's
Facebook page
, the fraternity announced that it will cease all activities and suspend its status as a registered campus organization for one year until fall 2014, citing the "abhorrent, insensitive and highly offensive" video as the reason for its self-sanction.
The fraternity could also face further consequences pending an official University investigation into Lambda's conduct "in several videos involving racial insensitivity and alcohol use." Here's the organization's full statement:
Statement by Lambda Theta Delta fraternity at UC Irvine regarding self-sanction

After consulting with the Vice Chancellor of Student Affairs, Student Life & Leadership staff, the Multicultural Greek Council, UCI alumni, and meeting with and listening to the members of the Black Student Union, it is clear that we have strayed from Lambda Theta Delta ideals of friendship, leadership, scholarship, service and most importantly cultural awareness.

After 30 years as a registered campus organization at UC Irvine, Lambda Theta Delta has decided to suspend our status for one year until fall 2014. This decision is mainly due to the abhorrent, insensitive and highly offensive "blackface" video created by our members that has been circulated widely on the Internet. We are aware that the campus has initiated an investigation of our behavior in several videos involving racial insensitivity and alcohol use. We are cooperating fully with the University's investigation.

The suspension of our status means that we will no longer benefit from the privileges afforded to campus organizations at UC Irvine. It also means that we will cease all major activities including rush activities, exchanges and our annual hallmark program Vibe dance competition event. Canceling these activities means that we are focusing on addressing our attitudes, our values and our conduct.

Our decision to suspend our status as a campus organization does not preclude us from our continued attempts to repair the harm that we created. We are committed to participating in campuswide discussions with individuals and groups affected by our actions.

In concert with many staff and students, we have started planning educational programs, community dialogues, and will avail ourselves of opportunities offered by the campus to educate ourselves on racial stereotypes and our responsibility to address racism in whatever form it takes.

During this time off, we will take many steps, including: a new advisory board will be assembled comprised of alumni and campus staff; all current members will participate in programs to address racism; and we will propose a new recruitment and pledge process to the university in fall 2014 which will include cultural awareness and respect.

As the campus community continues to express its pain and displeasure as a result of our actions, our hope is that those individuals and groups will continue to engage with us so that we can design solutions to address their concerns and ensure that our organization is never involved in a similar situation again.

It's a step. You can't help but shake your head again at the racist dumbassery that got them here. As I've said before, sometimes all you need is one guy within the group to speak up and say, "Yo, maybe this isn't such a good idea." But from what I can tell from their conduct -- not just that idiotic video -- this was probably a long time coming. Take that time off to get introspective, Lambda Theta Delta.