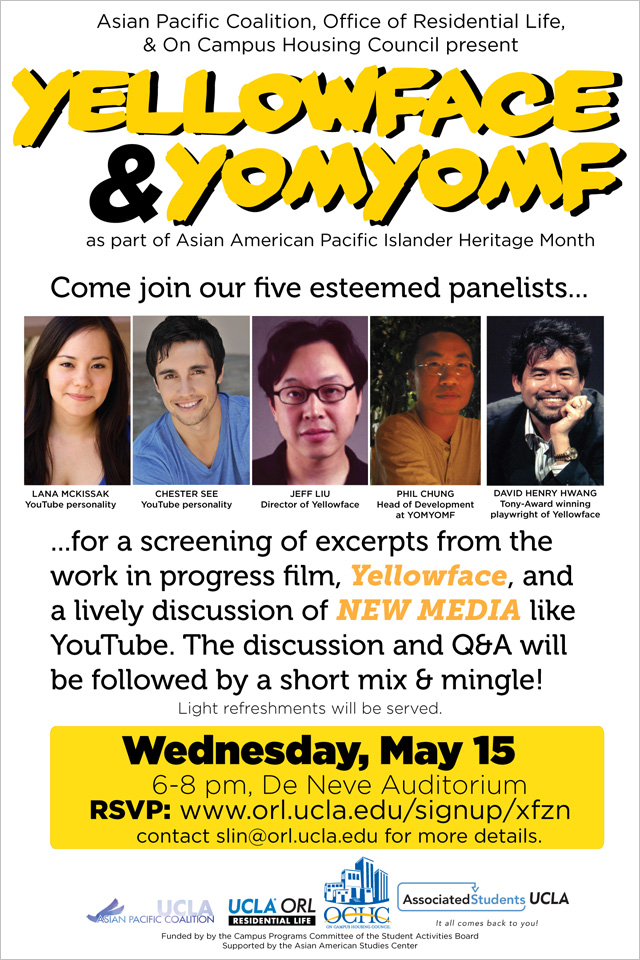 If you're in the Los Angeles area, YOMYOMF, the YouTube network started by filmmaker Justin Lin and friends, invites you to check out a
free panel
as part of UCLA's Asian American Pacific Islander Heritage Month events. The panel will feature David Henry Hwang, Lana McKissack, Chester See, Jeff Liu and Phil Chung. It's happening Wednesday, May 15 at De Neve Auditorium. Here are some more details:
AAPIHM: Yellowface & YOMYOMF: Special guests David Henry Hwang, Chester See, & more!

Wednesday, May 15
6:00 - 8:00 pm

De Neve Auditorium
Los Angeles, California

Asian Pacific Coalition, Office of Residential Life, and On Campus Housing Council present ...

YELLOWFACE & YOMYOMF!!

David Henry Hwang and YOMYOMF (headed by Justin Lin) are coming to UCLA for a two hour panel and short screening of Yellowface, directed by Jeff Liu, an adaptation of David Henry Hwang's play by the same name. Our other esteemed guests will be Chester See (Youtube), Lana McKissacK (Youtube), Phil Chung (Head of Development at YOMYOMF). Dom Magwili will be MCing this great event.

For further information, go to the
Facebook event
, and make sure you RSVP
here
.