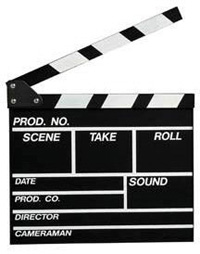 Uhhh... what the hell? Got this casting call passed along to me for an indie film called
It's Gawd!
, described as an irreverent comedy about what happens when the almighty gets his own television show.
One of the parts in question is a character called Lucy, "a mutant human/angel hybrid who speaks broken English with a strong Asian accent." But she apparently isn't Asian, so the part is open to actors of all ethnicities... except Asians. Wait, what?
Yeah, I don't get it either. Here's the full breakdown:
IT'S GAWD!
Feature Film
Wow and Flutter Post / Wow and Flutter Media
SAG-AFTRA (SAG terms) - Pending
Producer: Ryan Rees, Gerald Brunskill
Director: Gerald Brunskill
Casting Director: Jennifer Birn
Interview Dates: 6/17-6/20
Callback Dates:
Shoot/Start Date: 7/11/13
Pay Rate: SAG-AFTRA MLB
Location: Los Angeles area
SUBMIT ELECTRONICALLY
IF POSSIBLE, PLEASE SUBMIT ACTOR'S ONLINE DEMO CLIPS ALONG WITH EACH
ACTOR SUBMISSION.
Currently casting ONLY these two roles:

[LUCY] Mid 20s. Funny, quirky, and cute. Shorter is better! Lucy is a mutant human/angel hybrid who speaks broken English with a strong Asian accent. She is not Asian in appearance so all ethnicities (except Asian) are welcome. Childlike and innocent yet has a sharp tongue that can appear harsh at times. Very facially expressive.

[BUDDHALICIOUS / BRAWD] 20s-30s age not as important as ability to be "bigger than life in every way.' All ethnicities welcome. Must be a plus-size female who is bigger than life in every way. Uninhibited by her size. Funny and loud. Speaks urban slang and although appears to be a cliched stereotype she is actually a wise, all-knowing being.

LOGLINE: Desperate to save the world (and his job), the creator of Earth journeys to the planet to reconnect with mankind -- via a nightly variety show.

"Buddhalicious" sounds like a laugh riot too. This does not sound good. Damn, are you telling me that Asian actors don't even get to do the fake accent anymore? We used to run that. So unfair -- us Asians never get to play the mutant human/angel hybrid thing. (Thanks, J.)