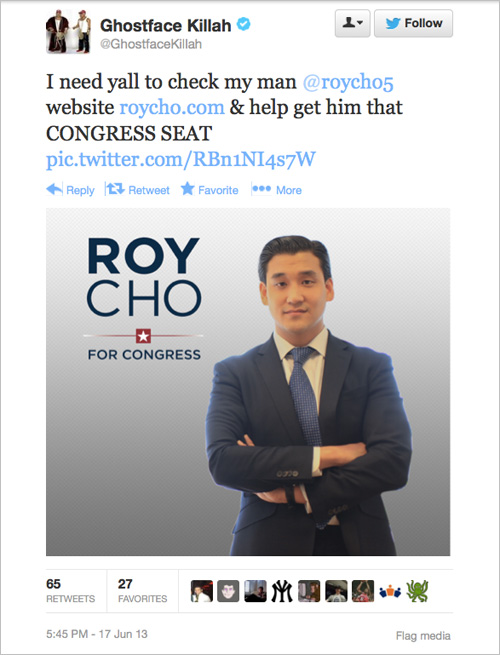 In tough political races, candidates need any kind of edge they can get. In New Jersey, one Democratic candidate for Congress has received the coolest and weirdest of all political endorsements -- from a member of the Wu-Tang Clan:
Ghostface Killah endorses Democratic candidate in 5th District race
.
Hackensack attorney
Roy Cho
, who is running for the Democratic nomination to represent the Garden State's 5th District, got the thumbs up from none other than the rapper known as Ghostface Killah, via
Twitter
. And that automatically makes Roy Cho -- who says that
Enter the Wu-Tang (36 Chambers)
is his favorite album -- the coolest candidate in this race:
@GhostfaceKillah @WuTangClan Thanks so much! Always been a HUGE fan, will work hard 2 make u proud! Really appreciate the support! #Wutang

— Roy Cho (@RoyCho5) June 18, 2013
I don't know if Ghostface speaks for the rest of the Wu-Tang Clan (RZA, GZA, Method Man, Raekwon, Inspectah Deck, U-God and Masta Killa could not be reached for comment), but as we all know, Wu-Tang Clan ain't nothin' ta f%ck wit. Protect ya neck!