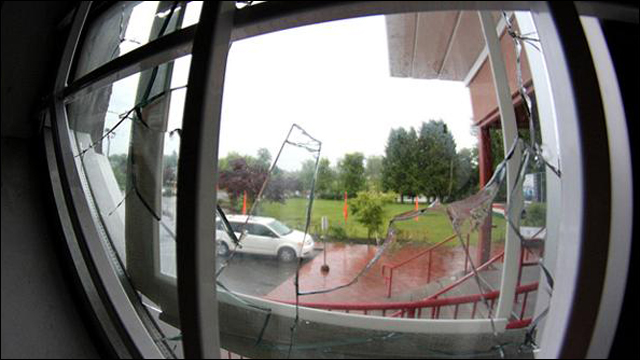 Some local news out of Canada about a possible hate crime... In Surrey, British Columbia, authorities are investigating the vandalism of a Hindu temple over the weekend. Temple leaders are certain the incident was a hate crime:
Temple bashing hate crime, says Hindu leader
.
Sometime early Sunday morning, surveillance cameras caught two men -- who appear to be South Asian -- entering the Lakshmi Narayan Hindu Mandir temple. The vandals used baseball bats to smash up the windows of the temple's front entrance. Nothing was stolen, which leads some to believe this was more than just a simple act of vandalism:
Sometime in the wee hours of Sunday morning two men who appear to be South Asian were caught on a surveillance camera, carrying bats. They are later seen running away, with nothing in hand.

Some hours later, worshippers arriving at the Lakshmi Narayan Hindu Mandir temple, at 8321 140th St., were shocked to find the windows at the front entrance smashed and a broken bat bearing the name "Brar," a Sikh Khanda symbol and inscription "Veradero Cuba" laying in the busted glass below.

Temple president Parshotam Goel said he will not point fingers until the RCMP investigation provides "concrete" evidence as to who the vandals are.

"Definitely it's a hate crime," he said. "It's not an act of vandalism."

This happened just days before the temple annual candlelight vigil to commemorate the bombing victims of Air India Flight 182, which killed 329 men, women and children in 1985. It's uncertain if the vandalism is connected, but the incident made the vigil all the more poignant for the community.
More here:
Hundreds attend vigil at Surrey Hindu temple
.