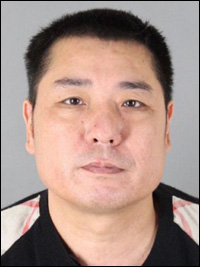 Busted. Last week in South San Francisco, authorities arrested a man who was allegedly running a brothel with his wife out of their apartment, which investigators believe may be part of a much larger international sex trafficking operation:
Busted South SF brothel may be part of larger sex ring
.
49-year-old Zhi Liu was arrested on human trafficking, pandering, and pimping charges. He and his wife Wie Guo, who remains at large, are accused of running a brothel, rotating young women from Boston, New York China, in and out of an unassuming apartment just across from the South San Francisco BART station.
Zhi Liu was arrested on human trafficking, pandering, and pimping charges last Thursday after a state Department of Justice investigation revealed a Sacramento prostitution ring was using an apartment in San Bruno, according to prosecutors.

The ring was rotating prostitutes through the Bay Area, including through the San Bruno residence run by Liu who allegedly went by "Bob" and his wife, Wei Guo, 51, who used the name, "Coco."

Authorities are still trying to track down Guo, who is wanted on a $100,000 arrest warrant, San Mateo County Chief Deputy District Attorney Karen Guidotti said.

According to prosecutors, the brothel moved from San Bruno to a location in South San Francisco in May.

State investigators took down the brothels in San Mateo County and in Sacramento County, where three others were arrested last week.

Damn. Turns out, all those neighborhood rumors were true. Bob and Coco have definitely been up to no good in the hood. More here:
Man linked to South SF brothel appears in court
.