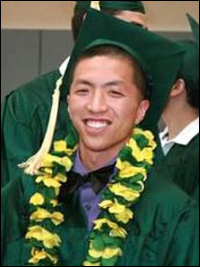 What the hell? This is some disturbing news out of the Bay Area, where a man was shot and killed after a confrontation with two men who had rear-ended his car:
Emeryville man slain after Oakland crash
.
22-year-old Aya Nakano was on his way home from a pick-up basketball game on Wednesday night when his car was rear-ended in North Oakland.
After pulling over to the side of the road, he got into a confrontation with the two men in the other car, described as a newer-model four-door silver sedan. That's one of the men pulled out a gun and shot Nakano, who died at the scene.
Nakano and the driver of the other car, described as a newer four-door silver sedan, pulled to the curb, said Officer Johnna Watson, an Oakland police spokeswoman.

"He did the right thing," Watson said. "He was involved in a collision, and he pulled over."

After Nakano got out of his car, he and the two men who were in the sedan got into some sort of confrontation, Watson said. One of the other men pulled out a gun and shot Nakano.

Nakano died at the scene, while the two men fled south on Market Street, Watson said. No arrests have been made. Police said the city's ShotSpotter alert system detected one shot.

More here:
Emeryville 22-year-old shot and killed in North Oakland after car collision
.
It's senseless. He was a young guy, and he definitely didn't have to die over a stupid car accident. Police are offering a reward for up to $10,000 for information leading to an arrest, and Nakano's family has offered a $5,000 reward. Anyone with information is asked to call city homicide investigators at (510) 238-3821.