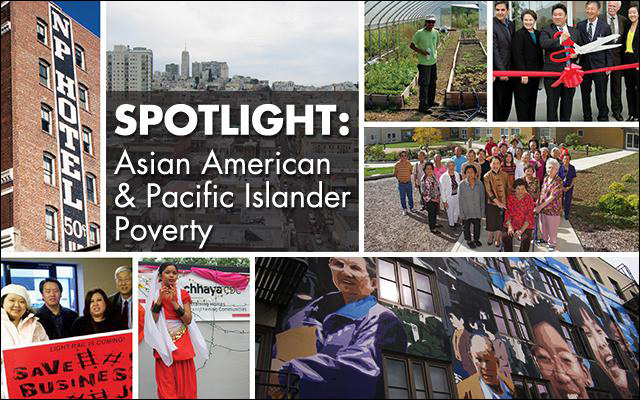 Asian American and Pacific Islander poverty is on the rise. And it can't be ignored. According to a new study by the
National Coalition for Asian Pacific American Community Development
, the AAPI poor population grew faster than most other ethnic groups from 2007 to 2011, increasing by 38% to over 2 million.
The demographic study,
"Spotlight: Asian American and Pacific Islander Poverty,"
brings attention to communities in need, busts harmful model minority stereotypes and broadens the conversation about what it means to be AAPI in America. Here are some key highlights from the study:
AAPI Poverty is Growing Dramatically: From 2007 to 2011, the number of AAPIs living below the federal poverty level increased by more than half a million.
- This 38% increase can be broken down into a 37% increase for Asian Americans (AAs) in poverty and a 60% increase for Native Hawaiians and Other Pacific Islanders (NHOPIs) in poverty.
- In comparison, the general poverty population grew by 27% during the same time period, with the Hispanic/Latino poverty population growing by 42% and the African American poverty population growing by 20%.

The AAPI Poor Population is Concentrated: Over 50% of all AAPI poor live in 10 metropolitan areas (New York, Los Angeles, San Francisco, Chicago, Honolulu, Seattle, San Jose, Houston, Sacramento, and Philadelphia). No other racial/ethnic poverty population is as concentrated in as few places. Approximately 30% of all AAPI poor live in only 3 metro areas (New York, Los Angeles, and San Francisco).

AAPI Poor Disproportionately Face High Housing Costs: The 20 highest cost housing markets in the country contain almost half of all AAPI poor. No other racial/ethnic category has as high of a proportion of its poor population in these markets (closest is Hispanic/Latino at 27%).

The AAPI Poor Population is Diverse: From 2000 to 2010, the US Census identified AAPI populations in poverty for 22 separate ethnic groups. The largest single group is non-Taiwanese Chinese at almost 450,000, followed by Asian Indian at over 245,000 and Vietnamese at 230,000. Hmong have the highest poverty rate at 27%, followed by Bangladeshi at 21% and Tongans at 19%.

Download and read the full report
here
. For further information, go to the National CAPACD
website
.