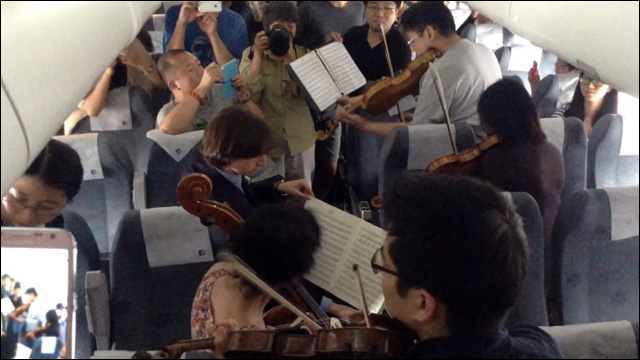 You're flying out of Beijing. Delayed. You're stuck on the runway. This sounds like a good time for an impromptu classical music concert -- live, right there inside the plane:
Philadelphia Orchestra Airplane Concert: Musicians Give Impromptu Performance On Beijing Tarmac
.
When members of the Philadelphia Orchestra, who were on tour in China, found themselves stuck on the tarmac in the middle of a three-hour delay, they pulled out their instruments and surprised fellow passengers with a pop-up
performance
of Antonin Dvorak's "American" Quartet Finale. Take a look:
That's Juliette Kang on violin, Daniel Han on violin, Che-Hung Chen in viola and Yumi Kendall on cello. Bravo! It certainly beats reading the SkyMall catalog cover to cover (which I have done).