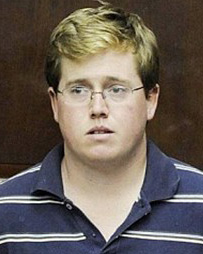 Catching up on some news from last week... In New York City, a college student will face a 9 1/2 year prison sentence for viciously assaulting a Bangladeshi taxi driver in a hateful anti-Muslim attack:
Michael Enright Pleads Guilty To Anti-Muslim Attack On NYC Cab Driver
.
Cab driver Ahmed Sharif picked up Michael Enright on August 24, 2012. Enright asked Sharif whether he was Muslim, insulted his religion, then lunged into the front seat to slash his throat.
Enright pleaded guilty to attempted murder and assault as hate crimes. The prosecution recommended an 18-year prison sentence, but the judge imposed the lesser prison sentence, plus five years of post-release supervision because Enright had no previous criminal record and because the victim wasn't badly hurt:
Enright, a would-be senior at the School of Visual Arts at the time of the attack, slashed cab driver Ahmed Sharif in the neck with a folding knife on Aug. 24 after asking whether he was Muslim, greeting him in Arabic and then telling him to "consider this a checkpoint" and vowing to kill him, authorities said. Sharif, who is from Bangladesh, survived. The driver left New York City after the attack.

Enright later declared to police that he was "a patriot," prosecutors said. He had initially told officers he'd tried to defend himself because Sharif was trying to rob him -- a suspicion-deflecting tactic that showed he had some presence of mind, prosecutors said.

Upon Enright's arrest, his lawyer has said the film student was deeply disturbed by what he saw while shooting a documentary about the war in Afghanistan, where he was briefly embedded with combat troops.

Enright's sentencing is scheduled for June 25. Dude needs to rot in a cell with his hateful self for a long time. More here:
College Student Pleads Guilty to Hate-Crime Stabbing of Cab Driver
.