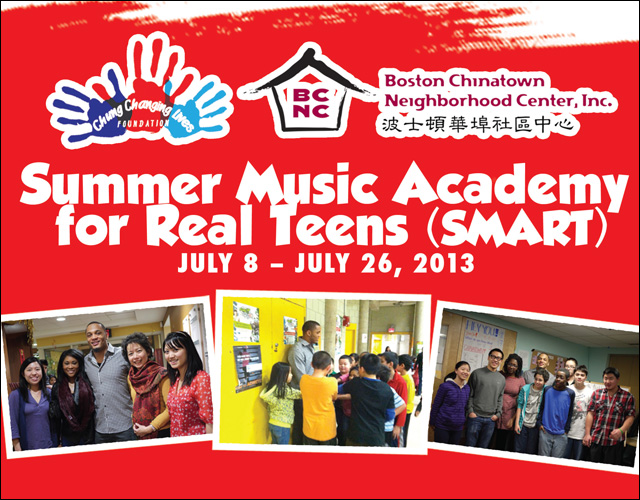 Young people of Boston! This one's for you. The
Summer Music Academy for Real Teens
(SMART), sponsored by Chung Changing Lives Inc. and the Boston Chinatown Neighborhood Center, is a three-week summer music education for teens. SMART seeks youth ages 13-18 of all backgrounds from all over Boston to develop their passion to learn and create music. The program runs July 8-26 at the Boston Chinatown Neighborhood Center.
The program is made possible by the generous support of NFL player Patrick Chung, who himself is the son of professional musicians -- music producer Ronald Chung and reggae singer Sophia George-Chung:
Former Patriot Patrick Chung presents $25,000 to Boston Chinatown Neighborhood Center
.
Here are some more details about the program:
PROGRAM AGENDA

SMART is a learning experience unlike any other.

The goal of SMART is to improve cross-community relations among young musicians in Boston. The strategy through which we work toward this goal is by providing intensive music education in a community-based setting with diverse participants and staff, using a curriculum that honors the many different life experiences of young people.

Participants are Boston-area youth between 13 and 18 with a passion for music; they will learn from working with musicians in a community context.

The program consists of the following courses and electives:

Music in Community & Society (required)
Students will participate in student-directed and interactive group discussions about the roles and uses of contemporary music in their communities and society. They'll reflect on their own musicianship, creative motivators, and will share their vision of how music can potentially impact human well-being and/or social welfare.

Understanding the Song (required)
Not your average music theory class, "Understanding the Song" will incorporate music theory concepts into understanding the elements song. Whether their primary interests lie in performance, songwriting, or music synthesis, this class will benefit all students so that they deepen their listening experience and interpretation of the song, as they learn the basic elements and structures of contemporary songs. Students will come out of the class with deepened listening, interpretation and writing skills.

Elective Courses
Students will choose an elective for the duration of the program led by a working musician; free time will also be set aside for students to engage in guided exploration of their chosen elective. Elective courses may include songwriting, digital music synthesis, and advanced performance.

The program ends with a final showcase of student work.

The application deadline is June 21. SMART is for any teens who have a passion for music, regardless of experience. Full and partial fee waivers are available young people facing financial hardship. For further information about the program, download the
application
(PDF) from the Boston Chinatown Neighborhood Center website.