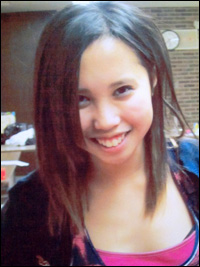 Damn. Some tragic news out of Illinois, where a teenager was killed last week after being struck by lightning:
Jennie Dizon, Downers Grove Teen, Killed By Lightning Days Before High School Graduation
.
Just three days before her high school graduation, 17-year-old Jennie Dizon was at a park in Downers Grove writing in her notebook when a powerful thunderstorm rolled into the area and she was struck by lightning.
She was found unconscious and pronounced dead at the scene:
It's been a sad 24-hours for the family of 17-year-old Jennie Dizon. The young woman had dropped off her younger brother and sister at the dentist office and came to O'Brien Park in Downer's Grove with her sketch pad, looking for inspiration, according to her family.

But at about 5:20 p.m. Thursday night, a thunderstorm rolled through and lightning struck Jennie as she sat in a field at O'Brien Park near Dunham Road and 68th Street.

Paramedics were unable to revive her and she was declared dead on the scene at 5:45 p.m. Thursday, according to the coroner's office.

An autopsy determined Dizon, of Downers Grove, died of "electrocution consistent with a lightning strike," according to the coroner's office.

Jennie had plans to attend the University of Cincinnati to study theater production. It's an awful freak tragedy. My heart goes out to her family. More here:
Teenage girl killed by lightning in Downers Grove park
.