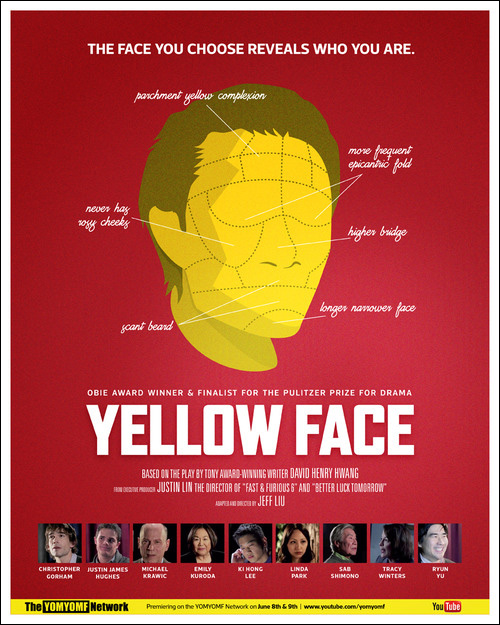 Check out the official
trailer
for
Yellow Face
, a screen adaptation of David Henry Hwang's award-winning play, premiering exclusively on the YOMYOMF Network on June 8 and 9. Ryun Yu stars as an Asian American playwright named DHH who leads the protest against the yellow face casting in the Broadway production of
Miss Saigon
, only to mistakenly cast a Caucasian actor in an Asian role in his own play:
Directed by Jeff Liu, the cast also includes Christopher Gorham, Linda Park, Sab Shimono, Emily Kuroda, Ki Hong Lee and Justin James Hughes. This is kind of a bold experiment: a feature-length filmed staging of a play for YouTube, presented in two parts over two nights. How's that going to go over? I guess we'll see.
I saw a screening of
Yellow Face
last month at the Los Angeles Asian Pacific Film Festival, and it played really well to a packed theater -- kind of like live theater! It's a fantastic play, and they've done a really wonderful job of adapting it. But I do wonder if it'll lose something when viewed solo on a handheld device. Maybe folks should organize screening parties or something.
So tell a friend.
Yellow Face
premieres this weekend on
YOMYOMF
.