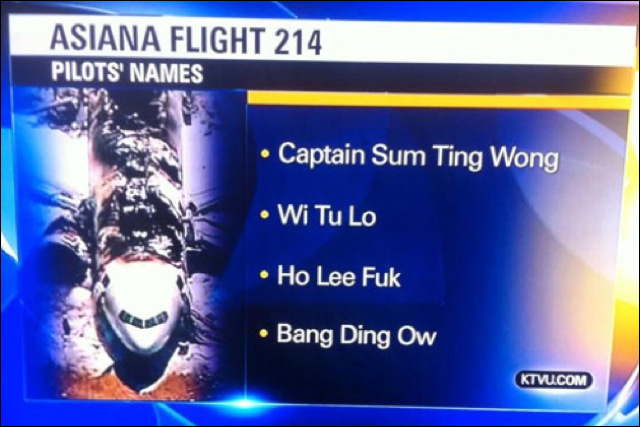 Holy crap. This has to be one of the most epic broadcast news fails I've seen... and it's
racist
as hell. Earlier today, Bay Area Fox affiliate KTVU reported the names of four pilots aboard Asiana Airlines Flight 214. Except KTVU got pranked, and the names they were reported were waaaay wrong:
KTVU Reports Asiana Air Pilots Were "Sum Ting Wong" and "Ho Lee Fuk."
Yes, these are the "names" that were actually uttered and displayed
on live television
: "Captain Sum Ting Wong," "Wi Tu Lo," "Ho Lee Fuk," and "Bang Ding Ow." I am not kidding you. There's apparently a racist fourth grader running the show over at KTVU. Here's a
video
of the gaffe:
KTVU subsequently issued a correction and
apology
for the error. Yeah, that's a big fat oops:
KTVU claims the names were confirmed by investigators with the National Transportation Safety Board, but the NTSB says they never give out pilot names in these situations. Somebody immature idiot was messing with KTVU, and the geniuses working the story failed to catch it.
Two
Three people were killed, dozens seriously injured, and we're making Asian name jokes. That is some fine journalism.
Now who do we blame?
UPDATE: Here's KTVU's official
apology
for their dumbassery:
In KTVU's Noon newscast on Friday, July 12th, the station misidentified the pilots involved in the Asiana Airlines crash at SFO.

Prior to air, the names were confirmed by an NTSB official in the agency's Washington, D.C. office. Despite that confirmation, KTVU realized the names that aired were not accurate and issued an apology later in the newscast.

The correct names of the pilots in the cockpit were Lee Gang-guk and Lee Jeong-Min.

"We sincerely regret the error and took immediate action to apologize, both in the newscast where the mistake occurred, as well as on our website and social media sites," said Tom Raponi, KTVU/KICU Vice President & General Manager. "Nothing is more important to us than having the highest level of accuracy and integrity, and we are reviewing our procedures to ensure this type of error does not happen again."

"Misidentified the pilots" and "not accurate" are really soft descriptions of what actually happened. And none of this attempts to explain how such an epic failure of judgement and taste made it on the air. When KTVU says it's "reviewing our procedures," I hope that means "firing someone's ass."
UPDATE: Whaaaaaaaaaaaaat. You've got to be kidding me. This gets better and better. The National Transportation Safety Board has
apologized
for the "inaccurate and offensive names" that were erroneously confirmed in response to KTVU's inquiry. Blame it on the summer intern:
NTSB statement on erroneous confirmation of crew names
July 12

The National Transportation Safety Board apologizes for inaccurate and offensive names that were mistakenly confirmed as those of the pilots of Asiana flight 214, which crashed at San Francisco International Airport on July 6.

Earlier today, in response to an inquiry from a media outlet, a summer intern acted outside the scope of his authority when he erroneously confirmed the names of the flight crew on the aircraft.

The NTSB does not release or confirm the names of crewmembers or people involved in transportation accidents to the media. We work hard to ensure that only appropriate factual information regarding an investigation is released and deeply regret today's incident.

Appropriate actions will be taken to ensure that such a serious error is not repeated.

Office of Public Affairs
490 L'Enfant Plaza, SW
Washington, DC 20594
(202) 314-6100
Kelly Nantel
kelly.nantel@ntsb.gov

Who is the friggin' bonehead summer intern who "acted outside the scope of his authority" to confirm this nonsense? And don't think this gets to KTVU off the hook either. Regardless from whomever this racist stunt originated -- and they better get to the bottom of it -- someone, anyone, who had a hand in producing that broadcast should have stopped, used his or her brain, and taken steps to get that crap off the air.