Guest Post by Ada Tseng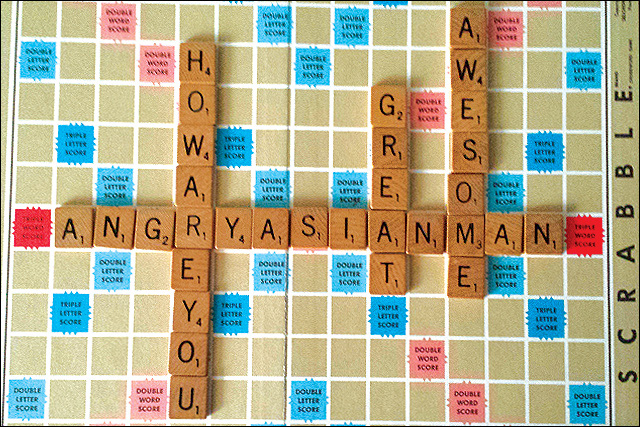 Hey, folks! I'm on vacation, taking a much-needed blog break. Some batteries need recharging. But don't worry -- I've enlisted the generous help of some great guest bloggers to keep things fresh around here while I'm gone. Here's Ada Tseng testing your knowledge of Asian American cinema.
Have you ever thought about how cool it would be to have an "Asian Americans in Film" crossword puzzle?
A fun game to reward anyone who's been following and supporting Asian Americans in entertainment -- aka you, the loyal readers of Angry Asian Man?
Truthfully, I hadn't either, but when Phil asked me to contribute a guest post, an idea was born. I'm grateful for this opportunity to take some of the films I've watched and people I've learned about in my last (almost) decade of covering Asian American entertainment for
Asia Pacific Arts
online magazine and to stick their names in vertically and horizontally-linked squares.
Have fun!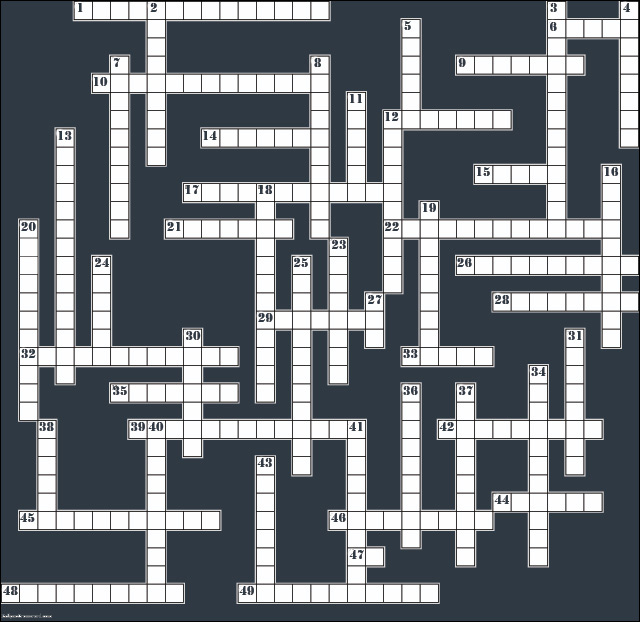 Click
here
for the key and to play the interactive online version!
Across
1. 2-time Oscar winner's '90s gay comedy
6. What Ayako Fujitani turns into in Gondry's
Tokyo!
short
9. Silent film star, female
10. 3 words, Chris "C-Dub" Wang
12. From Chef Chu's restaurant to Hollywood blockbuster sequels
14. Hamster with cancer
15. Singing and dancing in city of cemeteries
17. Only Asian woman to ever win an acting Oscar
21. A Quigley that can kick your ass
22. Wayne Wang's cabbie quest
26. Who Asia Pacific Arts thinks should play Jeremy Lin in our fantasy biopic
28. Cutting wood; Directed 1, produced 2, 3, 4, 5, 6 and 3D
29. The James in a
Crimson Kimono
32. Rwanda
33. Coming of age with the Basco brothers
35. Angel or head of Tokyo Yakuza? Both.
39. ____ Presents, New Jersey Desi Idol
42. Wax on, wax off
44. The role played by both Ming-Na Wen and Kristin Kreuk
45. The Sulu with over 4 million Facebook followers
46. Director that said goodbye to Taipei and asked about love's future
47. Starring Russell as wilderness explorer
48. Gets to light a scarf on fire in
The Social Network
49. 2 guys associated with burgers, detention camps, and a Christian holiday
Down
2. H.P.'s horror picture
3. Actor who plays Sikh doctor in this film later ends up in Homeland, Season 1
4. Li Xiaolong
5. The Stewart who is part of Jacob's shape-shifting pack
7. Hollywood's latest Silver Samurai
8. Plays Mulan in
Once Upon a Time
11. Silent film star, male
12. Passed out star of
21 & Over
13. Nancy Kwan musical
16.
Totally F***ed Up
,
Kaboom
,
Smiley Face!
18. Lisa Ray's love interest in not 1, but 2, films
19. KevJumba's Hawaiian adventure
20. Best Asian American Film of 2011 (and more) according to Asia Pacific Arts
23. Crazy doctor, crazy naked gangster
24. "Angry" man with cameo in
Linsanity
25. Shanghai calls for this Korean American leading man
27. What
Fast Six
,
2 Broke Girls
, and
Star Wars
have in common
30.
Red Corner
was her breakout Hollywood film
31. 2 Kangs, 1 roadside hotel designed for motorists
34. Director Jon M. Chu called this actor his "Tom Hanks"
36. Scott Pilgrim's scene stealing actress
37. Girl with guitar, glasses, and a paper heart
38. Oscar x 2
40. The psychologist that "studies"
Magic Mike
41. Not great today, but ____ tomorrow
43. Star of Wong Fu's medium film