Guest Post by Raymond J. Lee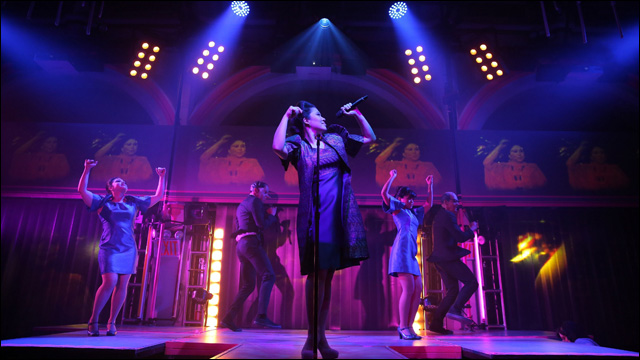 Hey, folks! I'm on vacation, taking a much-needed blog break. Some batteries need recharging. But don't worry -- I've enlisted the generous help of some great guest bloggers to keep things fresh around here while I'm gone. Here, Raymond J. Lee interviews Jose Llana, one of the stars the musical Here Lies Love.
There's a new musical taking New York by storm
and it is composed of a majority Asian American cast singing and dancing to the electric music of David Byrne and Fatboy Slim.
Here Lies Love
tells the story of Filipina First Lady Imelda Marcos and her rise to political stature. Featuring a cast of amazing Asian American triple threats, the show is now enjoying its fourth and final extension at New York's acclaimed The Public Theater. Directed by Alex Timbers, the show has already won an accolade of awards including the Outer Critics Circle for Outstanding New Off-Broadway Musical.
I got the chance to see this show the past month and it absolutely blew my mind. Not only it is a vibrant show filled with sensational music and award-worthy performances, but it is one of the first full-out Asian American musicals solely about Asian characters that has reached widespread popularity and critical acclaim in the past few years.
I got the chance to sit down with Jose Llana, one of the stars of
Here Lies Love
to talk about the show and his career as an Asian American actor.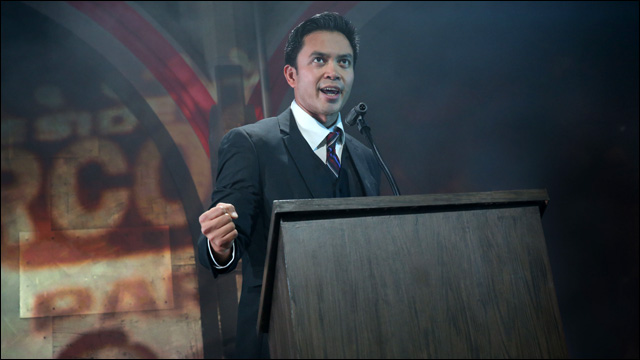 Where are you from and where did you go to school?
I was born during Martial Law in Manila moving to the U.S. when I was three years old. We lived in NYC briefly before my parents moved us to Springfield, VA, a suburb of Washington, D.C. I attended public school and ended up at a math & science magnet school, The Thomas Jefferson HS for Science and Technology. After high school I attended one year of music conservatory at Manhattan School of Music before being cast in the Broadway production of
The King & I
.
How did you get involved with Here Lies Love?
I heard first that David Byrne had released an album with Fat Boy Slim that was inspired by Imelda Marcos, which obviously intrigued me. When I heard The Public Theater was producing a workshop of a possible theater piece with Alex Timbers directing, I knew it was something I wanted to be apart of. I actively pursued the audition and was cast as Marcos for that first workshop and continued with the piece through the following 2 workshops and final production.
How has it been being a part of the previous productions and the entire journey up to this point?
Here Lies Love
has been the most fulfilling, challenging, FUN piece of theater I've ever been involved with. Since day one the rehearsal room was a place of fearless creativity and joyful collaboration.
You play Ferdinand Marcos in the show. Can you tell us more about your character?
Ferdinand Marcos was President and later Dictator of the Philippines for more than 20 years. He was a gifted and charismatic politician whose administration was marred by massive corruption, political repression, and human rights violations.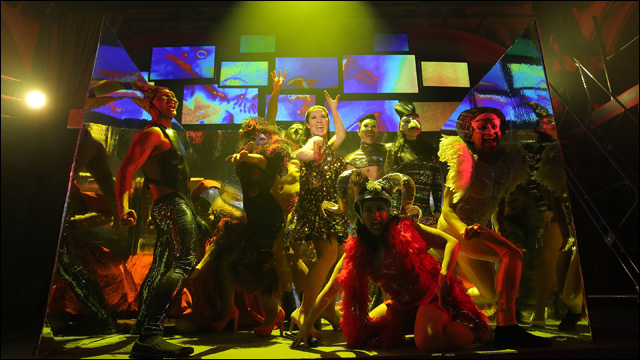 Here Lies Love has also been described as an "immersive theatrical experience." What was the creative process like and how was it different from putting on the standard type of theatre show?
There was a lot of experimentation and trial and error. The three workshops were immensely important in understanding how we wanted to create an immersive experience for the audience. How much room would we need? Will they want to stand the entire time? Will they want to dance with us? Our production at The Williamstown Theater Festival at Mass MoCA last summer was very important in understanding the physical dimensions of the stages and their relation to the number of audience members we could fit on the floor. It also made clear our safety concerns in terms of moving platforms around a dancing crowd.
What is it like running around the audience? Any funny audience mishaps? Any fun backstage stories?
It's incredibly fun to run around the audience. But it can also be a bit dangerous, especially when certain audience members decide to bring big bags with them to the show and you trip on them. Not fun.
Why is it important for Asian Americans to support Asian American theater?
I'm incredibly proud of the effort Alex made in casting the show appropriately with Asian-American talent. Jordan Thaler and Heidi Griffiths of the Public Theater Casting deserve special credit for populating the stage with actors who all look like they could come from the Philippines. I think it's important for Asian Americans to support theater like this because it will encourage more writers and composers to write material for us to perform. If you write it, WE WILL COME.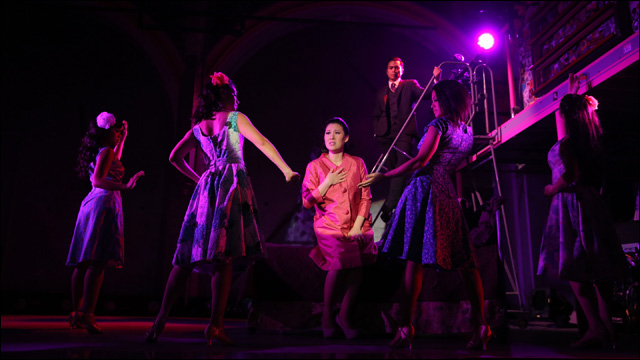 What advice do you have for Asian Americans who want to be successful actors?
I'd tell them the same thing I tell all actors -- practice. But specifically to my Asian American brothers and sisters -- I'd tell them 2 things that may come into conflict sometimes.
First, to embrace who they are ethnically and use it as something that makes you special. Learn the Asian parts in already existing shows --
The King & I
,
Miss Saigon
, etc. Those parts exist and can be future jobs for you. Make sure they can find talented Asian actors to cast in them.
Second, don't let your ethnicity limit you. Challenge casting directors to see you in parts that weren't written for Asian actors. Pick songs that showcase all your talents. Speak up when you think you are being portrayed in a stereotypical way.
What is it like working with a majority Asian cast?
Like in all my past shows with a predominantly Asian cast, it's like a family. More specifically with
Here Lies Love
, where 14 out of the 17 of us are either full or part-Filipino, the cast is particularly close and very silly.
Any plans for a future transfer?
Yes, there is. That's all I can say for now.
If you could describe Here Lies Love in three words:
Fun. Fabulous. Filipino.
Here Lies Love
runs until July 28 at The Public Theater. The cast stars Ruthie Ann Miles as Imelda Marcos, Jose Llana as Ferdinand Marcos, Conrad Ricamora as Aquino, and features Renee Albulario, Carol Angeli, Melody Butiu, Nathaniel Claridad, Natalie Cortez, Debralee Daco, Joshua Dela Cruz, Kelvin Moon Loh, Jaygee Macapugay, Jeigh Madjus, Maria-Christina Oliveras, George Salazar, Trevor Salter, and Janelle Velasquez.
| | |
| --- | --- |
| | Raymond J. Lee is an actor/director living in New York City. He most recently appeared on Broadway in the Tony Award winning revival of Anything Goes. He will be appearing in the world premiere musical of Honeymoon in Vegas starring Tony Danza this fall. For more information please visit www.raymondjlee.com or follow him on twitter @raymondjlee. |