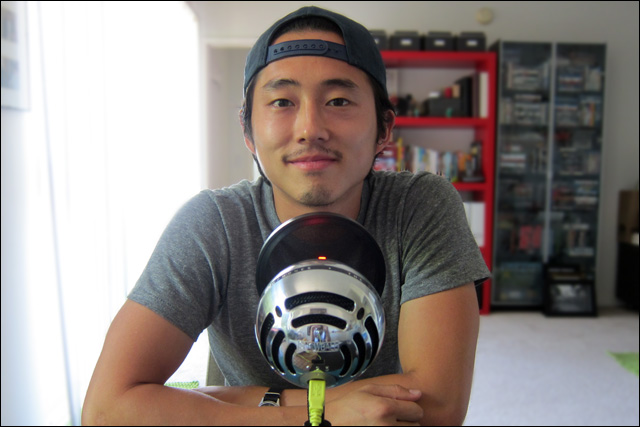 Podcast listeners! We're back with the latest episode of
Sound and Fury: The Angry Asian Podcast
. Episode 10 -- yes, we made it to ten! -- features a great conversation with actor
Steve Yeun
, who stars as Glenn on the popular AMC zombie drama
The Walking Dead
. Not only a talented actor, but a real nice guy to hang out with.
Thanks for listening, and for all the great feedback so far. These shows have been a blast to put together. At the very least, they've been a fun opportunity to sit down and chat with friends and folks I really admire, and it's my pleasure to share them with you. You can get a rundown of the previous episodes
here
. To get them delivered to your device as soon as they're released, be sure to
subscribe
.
But without further ado, let's talk zombies:
SOUND AND FURY
Episode 10: Steven Yeun

In episode ten, I talk to actor Steven Yeun about being a pain-in-the-ass Korean son, his role as Glenn on AMC's The Walking Dead and what it's like to be one-half of the hottest post-apocalyptic romance on television.

download | subscribe | iTunes | Stitcher

Some notes about this episode:
Big thanks to Steven for making it out to the Angry Asian Studios (aka my kitchen table) to talk. Special thanks to
Sabzi
for the beats. And as always, thank you to everybody for listening. Please spread the word! And for future episodes and updates, be sure to
subscribe
.