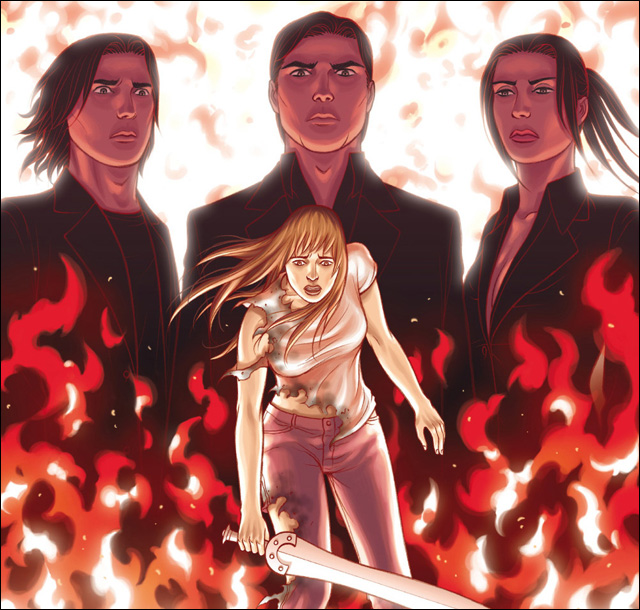 Some cool comic book movie news... The Luna Brothers'
The Sword
is the latest graphic novel project making the leap to the silver screen.
Watchmen
screenwriter David Hayter will reportedly adapt the first volume of the series for Lakeshore Entertainment:
'Watchmen' Writer David Hayter to Adapt 'The Sword' for Lakeshore
.
Jonathan and Joshua Luna's limited series
The Sword
, published by Image Comics, is a modern day fantasy tale that follows a young woman named Dara Brighton who -- armed with an ancient sword, of course -- seeks revenge on a trio of strangers who destroyed her life:
Story follows Dara Brighton, a young paraplegic who leads an ordinary existence until her family is brutally murdered by a mysterious trio, possessed of god-like, supernatural abilities. Left for dead, Dara discovers her father's ancient sword that not only restores her ability to walk, but grants her a constantly evolving array of spectacular physical powers. With her new weapon in hand, and two faithful friends at her side, Dara embarks on a journey to hunt down and destroy her family's assassins.

Production on the first installment of
The Sword
is scheduled to being in early 2014. The comic book series is collected in four volumes, so they're obviously hoping this will be a multi-movie franchise. More here:
'X-Men' Writer David Hayter to Pen Adaptation of Graphic Novel 'The Sword.'