Somebody call corporate. They've got an asshole running this restaurant.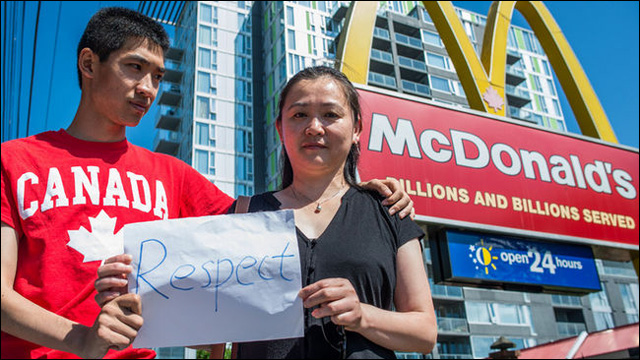 Today's edition of racist restaurant news... In Vancouver, a woman is demanding an apology from McDonald's after a manager refused to serve her because they apparently couldn't understand her English:
McDonald's customer says she was booted due to English skills
.
51-year-old Hai Xia Sun, who is a Chinese immigrant, says she was mistaken given a mocha coffee after she ordered a hot chocolate. When she tried to correct the mistake, the McDonald's manager allegedly berated Sun and her friend over their limited English skills, ordering her to get out of line and leave. Really?
Yes, it's true. Like a lot of people who eat at McDonald's every day, English is Hai Xia Sun's second language. But that definitely doesn't justify treating some like s$%t over a friggin' mocha.
But when the 51-year-old Chinese-Canadian hotel worker - who speaks English as a second language - tried to correct the mistake, she alleges the restaurant's manager was dismissive, saying: "You don't understand English."

"I was amazed and very angry," Sun said during an interview conducted in English. "This is discrimination.

"They said they didn't speak Mandarin. But I was speaking in English. She wouldn't serve me. She said, 'Don't stay here. The line is long. I want to serve other people.' She made me leave."

Sun alleges that even when another McDonald's staffer asked her what was wrong, the manager scolded him for interfering.

I have a hard time believing that Sun's English was so bad that her request was incomprehensible -- and certainly not anything worth kicking out a customer over. That's a load of crap. Somebody call corporate -- they've got racist fools running the McDonald's in Richmond.