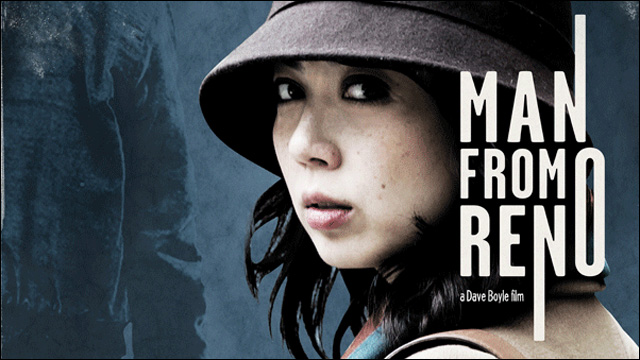 Man From Reno
is the latest indie feature film project from Dave Boyle, the writer/director behind
Surrogate Valentine
,
Daylight Savings
and
White On Rice
. But this one's a very different kind of film...
Starring Ayako Fujitani and Pepe Serna,
Man From Reno
is a bilingual mystery about a Japanese author and small town sheriff who team up to investigate a murder in San Francisco. The film is currently in post-production, but here's some cool moody
footage
:
True to Dave's M.O., the film was shot on tiny budget, and they're now in the midst of an ambitious crowdfunding campaign to finish the film. Here's a video with more information:
Here's a little more about the story:
In a small town south of San Francisco, Sheriff Paul Del Moral (Pepe Serna) is driving home through the fog one night when he accidentally strikes a pedestrian, a lone Japanese man. However, before an investigation can take place the man disappears from the hospital without a trace.

At the same time, Japanese mystery author Aki Akahori (Ayako Fujitani) takes a trip to San Francisco in order to escape the press tour for her latest book--a potboiler in her world-famous "Inspector Takabe" series. Feeling lonely and vulnerable, she begins a romantic affair with a mysterious Japanese traveler from Reno who is staying in the same hotel. Her new lover, Akira Suzuki (Kazuki Kitamura), is charismatic and charming but abruptly disappears from the hotel, leaving behind his suitcase and a trail of questions...

I do appreciate a good mystery, and it looks like a pretty cool film. The goal is to raise $50,000 by August 21, and they've got lots of awards to get in on if you help them out. For further information and updates about the project, and to make a generous pledge, visit the
Man From Reno
Kickstarter page
.