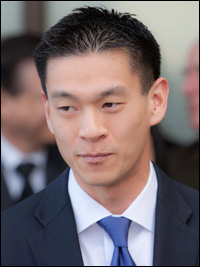 So the mayor of Campbell, California can organize and host a blood drive, but he is not allowed to donate his own blood. Because he is gay:
Bay Area mayor's blood donation rejected because he's gay
.
Last week, Mayor Evan Low and Vice Mayor Rich Waterman, who are both openly gay, helped host an American Red Cross blood drive, both for charity's sake -- there is a reported shortage of donors in the summer months -- and also to make a statement against the federal ban that prohibits gay men from giving blood.
The Food and Drug Administration adopted a lifetime ban on homosexual donors in 1983 in response to the AIDS scare. Low says the policy is outdated and should be reconsidered:
Low said Wednesday that prohibiting gay donors on the basis of risk for HIV or other diseases is discriminatory because heterosexual donors can carry the same risks and their blood donations are still accepted.

Low thinks the focus should be on proper blood testing before donations enter the nation's blood supply.

"We are in 2013 and we use science to determine the criteria for tainted blood," said Low. It's very important that we look at behavior and using science instead of a discriminatory policy."

Every major blood donation organization has come out in support of relaxing the ban. Meanwhile, there's a desperate blood shortage for transfusions. The mayor wants to donate blood. Let him!
More here:
Campbell Mayor to Host Blood Drive that Bans Him, Other Gay Men
.