Nominate an Asian American leader in New York City working for the advancement of the arts.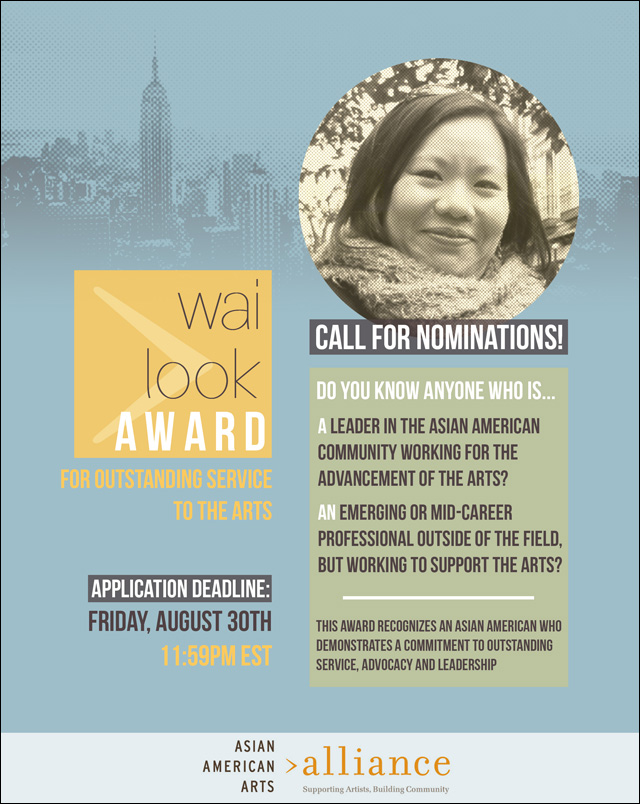 The Asian American Arts Alliance in New York is seeking nominations for the
2013 Wai Look Award for Outstanding Service in the Arts
. The award, now in its third year and presented to a NYC-based Asian American leader in the arts, is a tribute to Wai Look, a former Alliance board member who passed away when she was very young. Here's some more information about Wai Look and the Award:
Wai Look Award
Established in 2011, the Wai Look Award for Outstanding Service to the Arts is a tribute to the life and work of Wai Look, who served on the Asian American Arts Alliances board of directors from 1999 until her death in December 2010. She spent most of her career in the arts, as an administrator and in artist services, and devoted herself to helping others. Ms. Look also strongly believed in the importance of volunteering, which was reflected in her personal, as well as professional life. The award is given periodically to an Asian American who is making a significant contribution to the arts by demonstrating a commitment to outstanding service, advocacy and/or leadership.

About Wai Look (1969-2010)
Born in New York, Wai Look was one of five daughters in a Chinese American family. She grew up in Queens and graduated from Sarah Lawrence College in 1991. Since that time, she held positions in management and development for the United Hospital Fund, the Arts & Business Council of New York, and the New York Pops. A longtime board member of a4, Ms. Look served on the executive committee as board secretary. She also served on the board of the Artists Community Federal Credit Union.

Here's some information about eligibility:
Nominees may be an Asian American who is:

- based in one of the five boroughs of New York City;

- an emerging or mid-career professional working in the field with at least five years of experience;

- a volunteer for an arts organization. Volunteers can be in a leadership role, such as a board member or advisor;

- an emerging or mid-career professional outside of the field, but working to support the arts;

- a leader of an arts organization or organization providing services to the arts; and/or

- a leader in the Asian American community working for the advancement of the arts.

The nomination deadline is coming up -- they're due on Friday, August 30th at 11:59pm EST. And by the way, yes, you can nominate yourself. For further information about the Wai Look Award, and to nominate someone, refer to the Asian American Arts Alliance
website
.