Help ensure that every voter's voice is heard in California -- no matter what language we speak.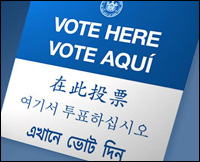 If you're in California, here's some news about an important voting rights bill on the governor's desk... AB 817 would allow lawful permanent residents (green card holders) to serve as poll workers. Currently, only U.S. citizens can perform this important community service. This online petition urges Governor Jerry Brown to sign the bill into law:
Tell Gov. Jerry Brown to make voting accessible for all Californians
.
Poll workers are the volunteers who check voters in, hand them their ballot, direct them to the ballot booth, and give them an "I voted" sticker. In California, many voters have limited English skills and rely on poll workers who speak a second language. But often, bilingual poll workers aren't available to help voters. AB 817 would help create a larger pool of bilingual volunteers for Election Day.
Alas, the bill has its opponents. A group called the Election Integrity Project is circulating a petition to urge Governor Brown to veto AB 817. The Election Integrity Project has been linked to True the Vote, an organization that voting rights advocates believe tried to suppress the minority vote during the 2012 election. The Election Integrity Project's petition is bullshit.
Sign
this one
instead and support voting rights for all:
Dear Governor Brown:

Earlier this summer, Assemblymember Rob Bonta (D-Oakland) introduced a state bill (AB 817) that would allow for more poll volunteers to assist voters who don't speak English fluently. Over 2.6 million eligible California voters are limited in their English proficiency. This measure passed the state Senate and awaits being signed into law.

We are asking you to sign AB 817 into law now.

Assemblymember Bonta's bill will strengthen county election officials' ability to provide assistance to voters with limited English proficiency by extending the pool of volunteers from which to recruit. This will be a huge boost to many communities in California. If signed into law, 57 counties in California will have better language access for voters under federal and/or state law starting in 2014.

Please sign this bill now and ensure that every American voter's voice is heard in California — no matter what language we speak.

Sincerely,
[your name will appear here]

Sign the petition over at
18 Million Rising
.