Wedding mischief looks better in slow motion.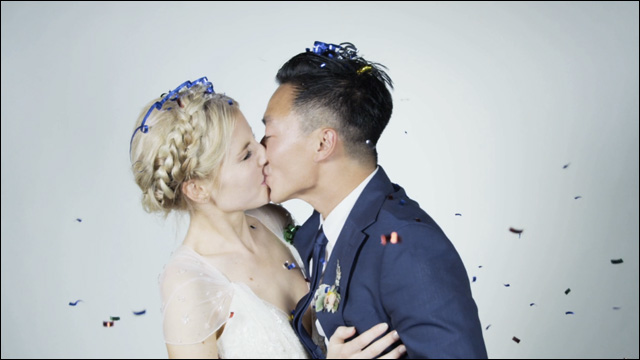 Are slo-mo photo booths the next big wedding trend? If you've been to a wedding in the past several years, you've probably taken a photo booth pic featuring you and your friends wearing oversized sunglasses and possibly a feather boa. But here's a fundamental truth: everything looks cooler in slow motion.
Seattle couple Quang Dinh and Ellie Koning got married earlier this month and instead of renting out the ubiquitous photo booth, they hired video production company
Super Frog Saves Tokyo
, who shot wedding guests in slow motion using a RED Epic camera and then edited the video into a cool montage of their friends in various states of mischief.
Check out the
video
of their guests dancing, making fish faces, blowing bubbles and slapping each other, among other slow motion shenanigans. Looks like they had an amazing time. (Warning: the video is paired with everyone's favorite rape-y song of the summer):
Damn, looks like Quang and Ellie know how to throw a good party. And we now have the next trend in wedding activities. Congratulations to the happy couple.