"We were once victims; now we are organizers."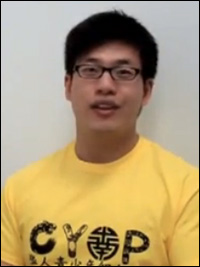 Hey, everybody. Meet Wei Chen. Hailing from Philadelphia, he's one of fifty finalists up for the
Peace First Prize
, a $50,000 fellowship that honors young people who are engaged in peace-making projects in their community. Will you cast a vote for him by showing some social media love?
I've actually written about Wei's work before. He was one of the leaders of the
student boycott
at South Philadelphia High School in 2009. As a young student, he organized fellow immigrant youth to speak out against
racial harassment and violence
at his school -- a community story we followed very closely.
Not only did the work result in a groundbreaking civil rights settlement by the U.S. Department of Justice, Wei and the community organizing around the struggle won new leadership and staff, changed policies training and practices at the school, and built multiracial student coalitions to dismantle zero tolerance policies.
Recently, Wei co-founded the Chinatown Youth Organizing Project to help new immigrant youth come together to build leadership for collective action.
He's an impressive young leader, right? He gets my vote. To support and
vote for Wei
, you can
tweet
, +1, or recommend the link to Wei's page. To learn more about Wei and Peace First Prize, go
here
.