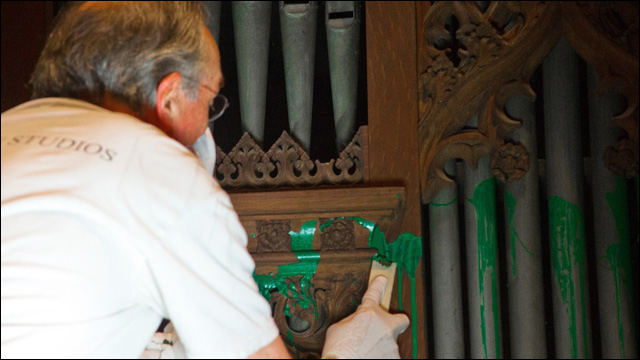 The green paint -- what does it mean?! This week in Washington DC, a woman was arrested for defacing the Washington National Cathedral with green paint, and is linked with several other incidents of vandalism around the city:
Woman Arrested For Vandalizing Washington Landmark With Green Paint
.
58-year-old Jia M. Tian was found carrying a soda can containing green paint when she was arrested on Monday. She is accused of using the paint to deface an organ and decorative woodwork at the Cathedral. She is also suspected of similar acts at the Lincoln Memorial, on a statue outside the Smithsonian headquarters, and a statue of Martin Luther on Thomas Circle -- all involving green paint.
Tian was arrested inside the cathedral's Children's Chapel on Monday afternoon, shortly after the still-wet green paint was discovered there. When a police officer approached her, she walked away and placed the soda can with green paint inside one of three bags that were sitting on chairs in the chapel, documents show. She also had green paint on her clothing, shoes and body, authorities say.

She was wearing a multicolored sock on her right arm, and a similar sock was found in a trash can in a bathroom at the cathedral on top of a can of green paint, according to the documents. The bags placed in the chapel also had cans of green paint in them, police said.

Tian is also suspected of vandalizing a statue of Martin Luther on Thomas Circle in downtown Washington, which was also hit with green paint, prosecutors say.

Following her arrest, a witness contacted police and reported that the woman had been seen attending a service at a church less than a block from Thomas Circle, according to court documents. The witness reported that the woman was carrying three bags with her. After she left, the witness found that a pipe organ in the church had been splattered with white paint, urine and feces, police say.

Tian is charged with destroying private property, and faces a maximum of ten years in prison and a fine of $5,000 if convicted. At the moment, there's no clear motive for these incidents. According to police, she has a Chinese passport, doesn't speak English and appears to have "mental health issues."
More here:
Prosecutors say woman charged in cathedral vandalism had soda can of green paint
.