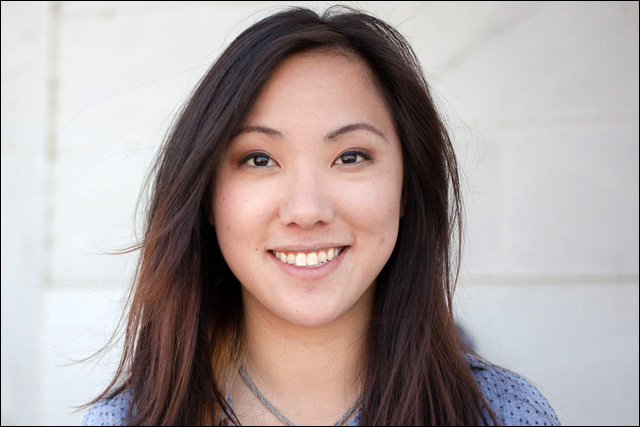 What is up, my friends? You know what we gotta do. It's time to meet the
Angry Reader of the Week
, spotlighting you, the very special readers of this website. Over the years, I've been able to connect with a lot of cool folks, and this is a way of showing some appreciation and attention to the people who help make this blog what it is. This week's Angry Reader is Kat Chow.
Who are you?
I'm Kat Chow. I'm also a journalist with
NPR's Code Switch
, a team that covers race, ethnicity and culture.
What are you?
I'm a reporter, writer and lazy baker. I'm the daughter of Chinese immigrants, the youngest sister of three, and a big believer in googling food recipes to quell all sorts of stress.
Where are you?
Washington, D.C.
Where are you from?
I grew up in this little Connecticut town that prides itself on being "the most ancient" one in the state. Yeah. Not the oldest, but the most ancient — there's a difference, apparently. I was also one of, like, two Asian kids. (I remember the day this boy, Jason, started in my third grade class. People acted like we were brother and sister because we were both Chinese. I just didn't know how to handle that.) And then I went really far away to go to the University of Washington, where I studied journalism and ethnic studies. After that, I spent a few months reporting in Phnom Penh for an English-language newspaper, The Cambodia Daily, before I moved to Boston for a hot second to work for a public television station. And now I'm based in Washington, D.C.
What do you do?
I'm a blogger and digital journalist for Code Switch, NPR's team that reports on race, ethnicity and culture that started in April 2013. I focus a lot on building conversations using social media, so if you follow us on
Twitter
and
Facebook
(had to plug it), you'll see what I spend most of my day doing. We aim to be conversational and to engage folks in the sticky conversations about race that people usually run from. It's sort of like, "Hey! Sit with us for a moment while we ask those questions you've always wanted to hear answers to." We try to be smart. We try to stray from the earnest stuff. And mostly, we try to have fun.
Part of my job is to also run this historical, "real-time" Twitter account called
@TodayIn1963
. We've compiled moments from that year — filled with monumental civil rights events like the March on Washington — and are live-tweeting them as they happened 50 years ago. I spend a lot of my time digging through archived newspapers and other primary sources to find these bits of history that might otherwise get buried. And it's incredible to see the different ways southern and northern newspapers covered that era — it gives me the chills.
What are you all about?
I'm all about conversation. Things should be mulled over; productive arguments should happen. It'd be a wonderful thing if everybody could thoughtfully discuss things, but that's sometimes a little too much to hope for.
And I'm all about using cat gifs to express myself. I don't know why, but I always
lose it when I see this one
.
What makes you angry?
Casual racism. Oh, sure, why don't you fling that subtle (or often, not-so-subtle) disparaging remark around and think that there won't be any sort of consequence? Joking about black names because they're "weird." Asking why Asian-Americans aren't good drivers. Et cetera. That's all stuff that's not okay and is exhausting to deal with. There's no perfect way to handle those situations, and it's always weird and awkward and unpleasant in moments where someone lets something racist slip out. Do you sit someone down and patiently and gently tell them that, um, they're saying something that's sort of racist? Someone really needs to make a recording that we can all just play in situations like this.
I wish there were
more goofy videos like this one
that equip folks with how to deal with casually racist things.
(Photo Credit: Lucas Anderson)