Gene Luen Yang's epic two-volume graphic novel tells the story of China's Boxer Rebellion.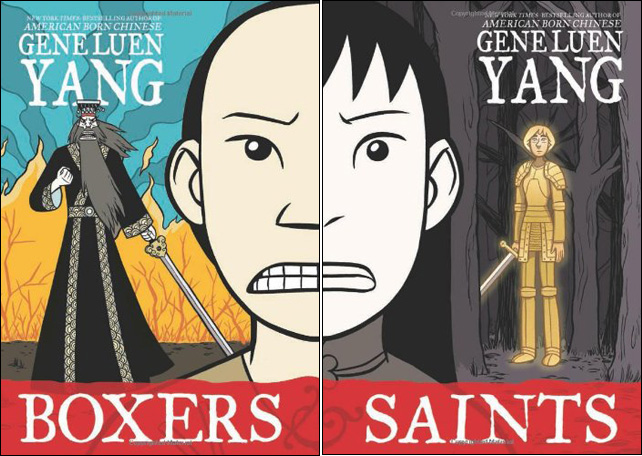 All right, folks. I gave you the heads up. Now it is time to get your hands on Gene Luen Yang's epic, two-volume graphic novel
Boxers
and
Saints
, which hits shelves today. I'm a huge fan of Gene's past books, including the award-winning
American Born Chinese
, and this is easily his most ambitious, most groundbreaking work yet. I can't recommend it enough.
Boxers & Saints
is the story of China's bloody Boxer Rebellion, told in parallel tales about young people -- Vibiana, a Christian convert, and Little Bao, a young man who joins the Boxer Rebellion -- caught up on opposite sides of the conflict. Here's an awesome
trailer
that gives you a feel for the graphic novel:
Here's a more detailed description of
Boxers
:
China,1898. Bands of foreign missionaries and soldiers roam the countryside, bullying and robbing Chinese peasants.

Little Bao has had enough. Harnessing the powers of ancient Chinese gods, he recruits an army of Boxers - commoners trained in kung fu who fight to free China from "foreign devils."

Against all odds, this grass-roots rebellion is violently successful. But nothing is simple. Little Bao is fighting for the glory of China, but at what cost? So many are dying, including thousands of "secondary devils" - Chinese citizens who have converted to Christianity.

And here's more on
Saints
:
China, 1898. An unwanted fourth daughter, Four-Girl isn't even given a proper name by her family. She finds friendship—and a name, Vibiana—in the most unlikely of places: Christianity. But China is a dangerous place for Christians. The Boxer Rebellion is murdering Westerners and Chinese Christians alike. Torn between her nation and her Christian friends, Vibiana will have to decide where her true loyalties lie . . . and whether she is willing to die for her faith.

If you're a fan of Gene's work, you'll appreciate that
Boxers & Saints
balances his trademark magical realism and humor with the harsh complexities of historical circumstance -- it's both a war epic and a character study, and nobody really "wins." It's a provocative, powerful narrative that knocked me out like a punch in the gut.
Get these books and read them.
Boxers
and
Saints
are available separately as companion volumes (honestly, you can't just read one -- you must read both books), and also as a
box set
with both volumes. For further information, go to Gene Luen Yang's
website
.