"Dan Nainan just punched me in the face."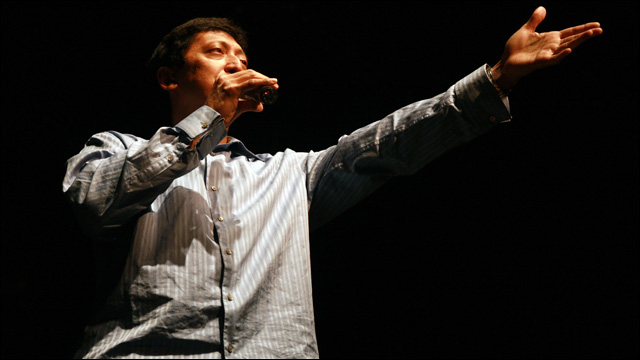 Boom. Last night in Washington DC, a comedian punched a journalist in the face. Because of something he posted on Twitter. Come on, we've all wanted to punch someone over a tweet at one point or another:
Comedian Dan Nainan arrested after journalist punched in face over tweets
.
Indian American Standup comedian
Dan Nainan
was performing Wednesday night at the DC Improv Comedy Club in Dupont Circle.
Daily Beast
senior correspondent Josh Rogin was in the audience, gathered for the semi-annual "Funniest Celebrity in Washington" contest. By the end of the night, one guy would get a punch in the face, and one guy would get arrested.
Rogin apparently wasn't much of a fan of Nainan's comedy and live-tweeted some mild criticism of his act, which included a bad George W. Bush impression and jokes about how Asians confuse "L" and "R." Ugh.
Dan Nainan was funny until he dusted off his 2005 Katrina jokes in a gratingly bad GWB impression. #DCImprov

— Josh Rogin (@joshrogin) September 26, 2013
Dan Nainan makes his umpteenth joke about how Asians cant distinguish between letters "L" and "R". Election, erection, we get it. #DCImprov

— Josh Rogin (@joshrogin) September 26, 2013
It seems that Nainan doesn't take criticism very well. Not too long after those tweets went out, he approached Rogin's table and asked "Are you Josh Rogin?" To which Rogin responded, "Yes." And then Dan Nainan punched him Josh Rogin in the face:
Dan Nainan just punched me in the face. Not a joke.

— Josh Rogin (@joshrogin) September 26, 2013
Bouncers bounced, cops were called, and Nainan was arrested and charged with simple assault.
I'm going to bet that most people, even standup comedy fans, were not familiar with Dan Nainan -- who bills himself as a "100% Clean Indian Comedian" -- before this incident. But punch a dude in the face, and you're national news. Could this be the most famous thing Dan Nainan has ever done?
Sure, I've wanted to punch someone over something they've posted on social media. Hell, I'm sure someone has wanted to sock me one over a tweet or two. (Don't get any ideas.) But a standup comedian who can't take a few Twitter jabs about his act? Brother, if this is your profession, you need to develop a thicker skin.
For all I know, the rest of Dan Nainan's act could be damn funny. But being honest: if you're going to include some old-ass jokes about how Asians can't distinguish between "L" and "R" sounds, you deserve more than just a few critiques on social media. Shit is tiring.