A photo and story project to counter the lies of Miss Saigon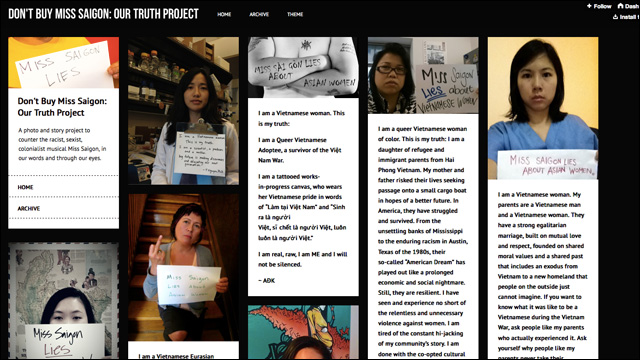 We're talking about
Miss Saigon
. First, if you haven't already, read this dope essay by Bao Phi:
War Before Memory: a Vietnamese American protest organizer's history against Miss Saigon
.
Now check out this awesome photo/story project,
Don't Buy Miss Saigon: Our Truth Project
, created by real people with real stories to counter the racist, sexist, colonialist musical's lies.
Here's some more information from Bao about the project:
Hello all, a lot of defenders of Miss Saigon insist that the play is "accurate" and "truthful". We reached out to community members and asked them to share a "truth" with us as an act of resistance. We created a tumblr for it, and first and center are truths sent to us by Vietnamese women. THANK YOU for trusting us and sharing with us.

For those who haven't sent yours in yet, *it's not too late*. This will be an ongoing project, so keep 'em coming!

And we will slowly expand the circle - later this week, we will add truths from Vietnamese men. Then, non-Viet Asian Americans, and then allies. If you are interested in participating, hit me up.

This is still getting started, so check back to see more photos and stories added as the project rolls out.